SPONSORED BY



Sales Tip of the Week
It was finally hot and sunny here in the Northeast when I came into work today. So kick back for a couple of minutes, why don't you, and enjoy these hot and sunny ideas. Send your feedback directly to: khuston@asicentral.com. It may be published in a future issue of Advantages magazine. For free information on products featured in Advantages, click here: www.advantagesinfo.com.


PRODUCT SPOTLIGHT


– Kathy Huston, editor 
ADVERTISEMENT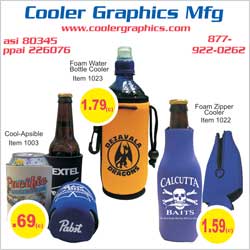 Cry Me a River (tissues)
The Pitch: Did anyone else cry watching Jon & Kate Plus 8, the divorce announcement episode Monday night? (Be honest.) Apparently not even a free tummy tuck for Kate or hair plugs for Jon could save the romance. Yes, I am the biggest, hugest sap (ask my buddy Joe Haley), but everyone can use a tissue now and again. Simply Smashing (asi/87425) offers custom pocket packs with tissues, including item TP017, which is shaped like a cell phone. This would be perfect for telecom trade shows, cell phone retailers and other communications-related markets. Pricing starts at: 500, $2.34 (R). Click here: www.simplysmashing.com
The Bottom Line: Sniffle saver.
The Teal Deal (nail polish)
The Pitch: Being a health-and-beauty-products junkie, I heart all of Diamond Cosmetics' (asi/49640) offerings as it is. But the supplier is doing something really special for Ovarian Cancer Awareness month in September. They've introduced a new shade of nail polish, called "Don't Teal My Heart Away," in support of Teal for Toes, which encourages women to paint their toes teal to start a conversation and increase awareness. A portion of the proceeds from sales of the new color will be donated to the National Ovarian Cancer Coalition. Pricing starts at: 500, $2.36 (S). This would be a nice idea for Ob/Gyn offices, salons, women's groups, and more. You can learn about the promotion and the organization at: www.justforwomenpromos.com and www.tealtoes.org.
The Bottom Line: Go toe to toe.

ADVERTISEMENT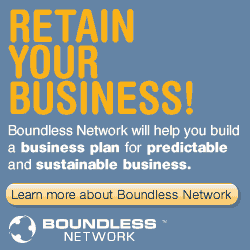 Out Damn Spot! (stain remover)
The Pitch: Charley Johnson's weekly motivational e-mails give me food for thought and in some regards probably help me clean up my act. But besides the Exec V.P.'s dose of inspiration, there is always something good coming from Snugz/USA Inc. (asi/88060). Anyone can clean up his or her act, for instance, with the new SpotZ Remover stain stick. They are bleach-free and biodegradable. Think: busy parents on the go, health-care workers, teachers, camp counselors and dry cleaners. Pricing starts at: 100, $2.39 (R). Check it out at: www.snugzusa.com. Also, if you want a chuckle, go to the home page and click on the video of Zoe the dog losing her mind about going outside.
The Bottom Line: Clean-up crew.

Adult Toy (putty)
The Pitch: How would you like a grown-up version of a childhood favorite? Crazy Aaron's Puttyworld (asi/47056) presents Thinking Putty, adult-sized handfuls in 30 stock colors. Or you can match the putty to your client's corporate colors. You can even get glow-in-the-dark versions. It's great for stress relief and brainstorming sessions and it's just plain fun. I have some right here in my office and let me tell you, it is addicting. I could play with this stuff all day. FYI: Aaron is a real person, according to the FAQ section on his Web site, and if you check out his site, I think you will agree he is also actually crazy. Take a look; it's very entertaining. Various tin sizes are available and you can see it for yourself and check on pricing at: www.puttyworld.com.
The Bottom Line: Sculpt a sale.

ADVERTISEMENT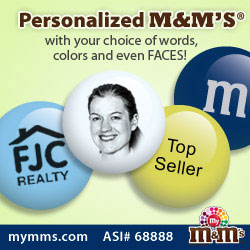 Pack It Up (backpack)
The Pitch: My husband actually has this backpack from OGIO International Inc. (asi/74773). His company gave it to all the salespeople on the wholesale side when their division spun off into its own entity. It's imprinted with the new division name. He loves using it instead of larger luggage for his overnight biz trips (last week was to North Carolina, this week to Dallas; if you see him, say "hi, Steve"). Your corporate clients and end-users would probably appreciate it too. It's item 711114, and includes a padded laptop compartment and large center storage area. The price is $53.33 (R). SanMar is the exclusive distributor of OGIO products, so click here to see it: www.sanmar.com.
The Bottom Line: Take a hike.
PRODUCT SPOTLIGHT
Exclusively from Gildan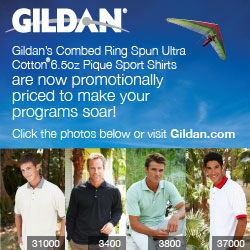 11 Styles, 33 Colors, 14 Sizes
The Industry's best selling pique knit Sport Shirt, Ultra Cotton® style 3800 and related styles all now feature Combed Ring Spun Yarns for an ultra soft feel and enhanced comfort. Check out all of our easy care Blend and Ultra Blend® styles for ultimate value in adult and youth uniform programs.

For additional product details visit www.gildan.com or www.gildanfinder.com for product inventory and availability.
Advantages is bringing over 60 top suppliers to a city near you. 
Come to the industry's largest and most popular traveling show, the ASI Advantages Roadshow. For a list of cities and dates, visit http://www.asishow.com/advroadshow/. Admission is free for all distributors and salespeople! 
SPONSORED BY


Advantages™ Hot Deals is a trademark of the Advertising Specialty Institute. You were sent this newsletter as a benefit of your ASI membership. Copyright 2009, ASI. All Rights Reserved. 
If you'd like us to send Advantages Hot Deals FREE to anyone else at your company (or to your off-site sales reps), go to www.asicentral.com/newsletters and complete the online form.
Interested in advertising in Advantages Hot Deals? Send an email to ddienna@asicentral.com
Click here to subscribe to Advantages™ magazine. 
Advertising Specialty Institute®, 4800 Street Road, Trevose, PA 19053