SPONSORED BY



Sales Tip of the Week
Four more days until the official start of summer! Two more days before I stop hearing my 15-year-old complain about going to school and telling me how lucky I am that I "only" have to go to work. Enjoy the last few days of spring, starting with this edition. Send your feedback directly to: khuston@asicentral.com. It may be published in a future issue of Advantages magazine. For free information on products featured in Advantages, click here: www.advantagesinfo.com.


PRODUCT SPOTLIGHT


– Kathy Huston, editor 
ADVERTISEMENT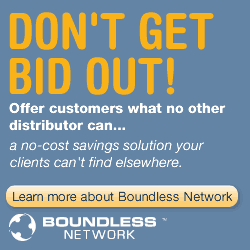 Imagine That (creativity journal)
The Pitch: A 6-year-old in Alaska won a fishing tournament Sunday by catching a 139-lb. halibut (that's a lot of fish-fry). She was disappointed though, as she was hoping to catch a mermaid. Oh, if we could only keep the imaginations we all had when we were young. Stretch yours with the Celebrate Creativity journal from The Book Company (asi/41010). It's a hand-crafted, hardcover writing journal with inspiring quotations. This would make a great gift for college kids/women's groups/writers' forums and more. Pricing starts at: 50; $7.95, R. Web address: www.thebookco.net.
The Bottom Line: Just for the halibut (you know I had to go there).
Hello Hollywood (celebrity ducks)
The Pitch: We have a celebrity duck of sorts around here at ASI…he's our chlorinating rubber duck (with sunglasses) that floats around our welcome fountain out front. Only, he's gone missing! Yes, I noticed his absence yesterday morning and read the duck-napping report on our Intranet. Apparently, his name was Howard, but I never really got to know him. But newly-listed supplier CelebriDucks (asi/44398) offers VIP rubber duckies for everyone. You can get any icon from film, TV, sports, music and even the President. Pricing varies, so call the supplier. They have a really cool Web site too, where you can see where these CelebriDucks have been. Check them out here: www.celebriducks.com.
The Bottom Line: Alert the paparazzi.

ADVERTISEMENT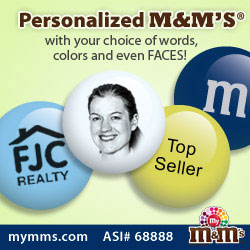 Bahama Mama (Tommy Bahama goods)
The Pitch: Besides Jimmy Buffett, Margaritas, Bob Marley, and hot and sunny days, nothing says "summer" like wearing your favorite Hawaiian party shirt (at least according to my husband). Eagle Dry Goods Co. (asi/51231) wants to give you an extra 15% off all Tommy Bahama items on its Web site, including tropical-themed candles, umbrellas, appetizer plates and men's and women's shirts and sunglasses. The discounted pricing is in effect through June. Now, that's a way to kick off the season! Web address: www.eagledrygoods.com.
The Bottom Line: And the livin' is easy.
Rock On (custom guitar picks)
The Pitch: This would be perfect for my son, Matt, who is a guitar hero in his own mind. Zoogee World Inc. (asi/99280) offers Rick Rock custom-shaped guitar picks, with a 3D image trapped inside. Item PGP3 is fun for all types of music-related targets, including concerts, music schools, band promotions and more. Plus it's relatively inexpensive at: 100; $2.98 (R). Check it out at: www.zoogee.com.
The Bottom Line: Hot pick.
The Terminator (insect repellent)
The Pitch: Summertime also comes with camping, if Friday the 13th Parts 1-12 are any indication. Also, reports show that more people go camping for vacation in a down economy for money reasons, although probably not to Camp Crystal Lake. However, there are scary things at any campground, like bugs for instance. Well, Rothco (asi/83708) offers something unique in the way of repellents. Item 7717 is 6 ounces of Permethrin insect repellent, which you spray on clothing to kill ticks and mosquitoes for up to 2 weeks, even after several washings. Plus, it's odorless, because who wants to smell like nasty bug spray? Starts at: 1; $12.40; P. Good idea for summer camps, day care, camping and hiking supply stores, tourist boards, Scouting groups and anyone else who doesn't want to be bitten. Web address: www.rothco.com.
The Bottom Line: Don't get stung.
PRODUCT SPOTLIGHT
Exclusively from Gildan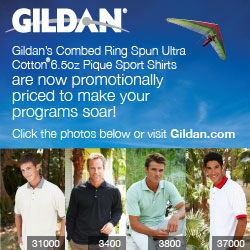 11 Styles, 33 Colors, 14 Sizes
The Industry's best selling pique knit Sport Shirt, Ultra Cotton® style 3800 and related styles all now feature Combed Ring Spun Yarns for an ultra soft feel and enhanced comfort. Check out all of our easy care Blend and Ultra Blend® styles for ultimate value in adult and youth uniform programs.

For additional product details visit www.gildan.com or www.gildanfinder.com for product inventory and availability.
Advantages is bringing over 60 top suppliers to a city near you. 
Come to the industry's largest and most popular traveling show, the ASI Advantages Roadshow. For a list of cities and dates, visit http://www.asishow.com/advroadshow/. Admission is free for all distributors and salespeople! 
SPONSORED BY


Advantages™ Hot Deals is a trademark of the Advertising Specialty Institute. You were sent this newsletter as a benefit of your ASI membership. Copyright 2009, ASI. All Rights Reserved. 
If you'd like us to send Advantages Hot Deals FREE to anyone else at your company (or to your off-site sales reps), go to www.asicentral.com/newsletters and complete the online form.
Interested in advertising in Advantages Hot Deals? Send an email to ddienna@asicentral.com
Click here to subscribe to Advantages™ magazine. 
Advertising Specialty Institute®, 4800 Street Road, Trevose, PA 19053