SPONSORED BY



Sales Tip of the Week
It's June! I love June and all the fun it brings … my son's birthday (the 6th), parties, BBQs, and the beginning of summer, my favorite season. So here I am once more to bring you joy (I am such a joy-bringer, aren't I?). Enjoy and send your feedback directly to: khuston@asicentral.com. It may be published in a future issue of Advantages magazine. For free information on products featured in Advantages, click here: www.advantagesinfo.com.

– Kathy Huston, editor 
 

PRODUCT SPOTLIGHT

ADVERTISEMENT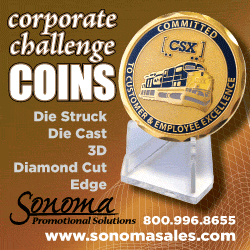 Scope it Out (fashion astrology book)
The Pitch: In accordance with my aforementioned joy for June, my horoscope for today actually says I will be in a great mood. And I am, despite the fact that I have three different deadlines this week and more on my to-do list than could ever get to-done. Here's a cute astrology-related book from Peter Pauper Press (asi/77802): Item#8423 is called Fashion Astrology and it tells you what to wear for every sign under the stars. As an Aries, red is my best color. It's my favorite color too! This would be a fun product for clothing store giveaways, clothing designers, retail boutiques and malls. Pricing starts at: 100, $4.75-R. Web address: http://77802.asisupplier.com.
The Bottom Line: Wear it well.

Swimmin' With the Fishes (aquarium)
The Pitch: This would be a perfect alternative for someone like me, who never had a goldfish that lived past a day (sorry Treasures and others whose names I can't recall). Item # 6670-09 is an aquarium with fake fish. Just fill it with water, plug it into your computer and watch them swim, which is a really good stress reliever. It's from Leeds (asi/66887) and includes the USB cord, two plastic fish, and instructions. Pricing starts at: 96, $12.96 (P). This would be a unique employee gift. Web address: www.leedsworld.com.
The Bottom Line: Water world.
ADVERTISEMENT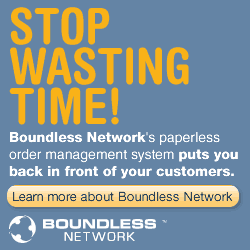 Going to Pot (pen)
The Pitch: Here's a very cute idea from Molenaar LLC (asi/71980) that would be just right for schools, florists, nurseries, offices … you name it. Item 4400 is a flower pen with a pot base, available in Hibiscus, Sunflower and Daisy. Pricing starts at: 250, $2.20 (P). You must check it out at: www.miline.com.
The Bottom Line: Flowery promotions.

Cold Cash (mini sports fridge)
The Pitch: If you are looking for a cool (literally) product for an incentive program, check out item AD-3950 from Advantage Line (asi/31570). It's a sports-ball-design mini fridge/warmer that holds up to eight 12-oz. cans. You can get either baseball or basketball. It includes an AC/DC UL listed adaptor and a 12VDC lighter cord. Pricing starts at: 12, $99.75 (R). See it at: www.advantageindustries.com.
The Bottom Line: Tailgate party time.

Sand and Sea (beach tote and spa products)
The Pitch: I would be remiss if I didn't bring you something beachy this time of year and this set makes me want to get away from it all. Aloe Up (asi/34362) offers item LJB0222, a jute beach bag, which includes products from their spa line: SPF 8 lotion, SPF 30 lotion, moisturizer, aloe vera gel, SPF 15 lip balm and a spa/ exercise towel. Suggest it to your travel clients, including agencies, resorts, cruise lines and tourism boards. It would also make a lovely gift for a sales incentive program. Pricing starts at: 50, $38.50 (R). Plus, you can get a free spec sample. www.aloeuppromo.com.
The Bottom Line: Take a vacation.

PRODUCT SPOTLIGHT
Exclusively from Gildan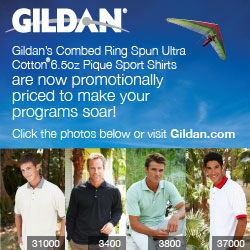 11 Styles, 33 Colors, 14 Sizes
The Industry's best selling pique knit Sport Shirt, Ultra Cotton® style 3800 and related styles all now feature Combed Ring Spun Yarns for an ultra soft feel and enhanced comfort. Check out all of our easy care Blend and Ultra Blend® styles for ultimate value in adult and youth uniform programs.

For additional product details visit www.gildan.com or www.gildanfinder.com for product inventory and availability.
Advantages is bringing over 60 top suppliers to a city near you. 
Come to the industry's largest and most popular traveling show, the ASI Advantages Roadshow. For a list of cities and dates, visit http://www.asishow.com/advroadshow/. Admission is free for all distributors and salespeople! 
SPONSORED BY


Advantages™ Hot Deals is a trademark of the Advertising Specialty Institute. You were sent this newsletter as a benefit of your ASI membership. Copyright 2009, ASI. All Rights Reserved. 
If you'd like us to send Advantages Hot Deals FREE to anyone else at your company (or to your off-site sales reps), go to www.asicentral.com/newsletters and complete the online form.
Interested in advertising in Advantages Hot Deals? Send an email to ddienna@asicentral.com
Click here to subscribe to Advantages™ magazine. 
Advertising Specialty Institute®, 4800 Street Road, Trevose, PA 19053