Drink Up
The Pitch: Logomark (asi/67866) has tons of great items on sale, including a 24-oz. glass decanter with a 10-oz. glass that also acts as the lid, so cats named Sneakers do not get into my nighttime water. It's on clearance at 50% off, so suggest it for holiday gifts and loyalty programs. Check it out here: http://www.logomark.com/Product/KW9800.
The Bottom Line: Keep it covered.
ADVERTISEMENT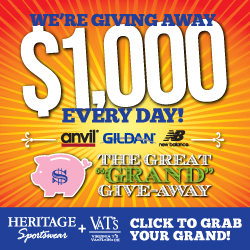 What's Poppin'?
The Pitch: When I write this enewsletter, I usually haven't eaten yet, so naturally, when I happened upon single bags of cheese popcorn from Admints & Zagabor (asi/31516), I had to bring it up. Now I'm craving cheese popcorn. You can get them for as low as $1.31 and that includes a four-color laminated decal on the clear bag. These are perfect for trade shows and special events. Click here: http://admints.com/ .
The Bottom Line: In the bag.
Just Chillin'
The Pitch: Oh yes, I need this item too. Ad-N-Art (asi/31518) offers brand-new Imperial Wine drinkware. The vacuum-insulated, stainless steel wine cup keeps wine cold longer, no cubes necessary. It comes in a variety of spiffy colors and is gift boxed. For pricing and to check it out, click here: http://www.adnart.com/UI/-.aspx?ptype=3&pid=879.
The Bottom Line: It's wine o'clock somewhere.
Fun To A Tee
The Pitch: According to Advantages' July "Big Markets" issue, education-related clients are the number-two buyer of ad specialties. Here's a nifty twist on your typical T-shirt, which is always a staple for this demographic. Mecky Tee (asi/90333) offers preshrunk, combed ringspun cotton T-shirts with customizable pockets. These would work well for school fundraisers and team events. Check out their catalog here: http://meckytee.com/.
The Bottom Line: Sew up sales.