Drinks On Us
The Pitch: OK, I'll admit it: I steal coasters from restaurants and bars. But I'm pretty sure they want you to do that. It's good publicity. Atlantis Match (asi/37390) suggests you pitch a package including coasters, matchbooks, napkins and even toothpicks for bars, restaurants and the ever-burgeoning microbrew niche. Ask the supplier about the Print-a-Pair discount. Check out their offerings here: http://www.atlasmatch.com/.
The Bottom Line: For the good times.
ADVERTISEMENT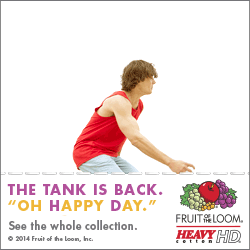 Mirror, Mirror
The Pitch: Ladies will love the Bling Mirror Tumbler from Berney-Karp Inc. (asi/40261). Take a sip and reapply your lipstick using the rhinestone-framed mirror on the front of the stainless-lined acrylic tumbler. Suggest it for spas, salons and women's events. Pricing starts at: 72; $8.99-C. Check it out: http://ceramic-source.com/.
The Bottom Line: Lady love.
Healthy Sales
The Pitch: According to ASI research – and Advantages' July "Big Markets" issue, the health-care industry is the number one buyer of ad specialties. Buztronics (asi/42963) offers the perfect product for healthy promos. The StepWell is a USB pedometer that works on smart phones, tablets and computers and tracks steps, distance and calories. Pitch it for corporate wellness programs and gym membership incentives. Get it for as low as $9.77-R. Click here: http://www.buzline.com/.
The Bottom Line: Keeping track.
Gift-y Business
The Pitch: OK, it's July, but there is such a thing as Christmas in July and it's not too early to start giving your clients holiday suggestions. Time Products International (asi/91320) has plenty of perfect presents. I like their Weather Forecast Desk Clock, which displays time, date, day, temp and weather graphic. It uses one button battery, included. You can get it for as low as $8-R. Click here: http://tpiline.com/.
The Bottom Line: Right on time.