ADVERTISEMENT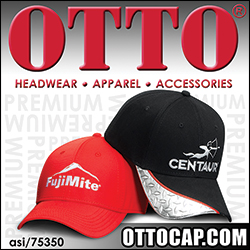 Water Works
The Pitch: I could have used the waterproof cell phone holder with double-zip closure and fold-over snaps to hold my money for the swim-up bar in Grand Turk. It's from Aakron Line (asi/30270). Pitch this to water parks, amusement parks, swim clubs, fishermen, boaters and more. Pricing starts at: 100; $2.25-C. Click here: http://www.aakronline.com.
The Bottom Line: Protect the goods.

Perfecto!
The Pitch: As I write this on Monday morning, the world is abuzz with the royal baby watch. Do you think Prince William will partake in a nice cigar once the little prince or princess is born? Well, apparently the Perfecto Cigar Holder from Perfecto Cigar Holder (asi/77334) keeps cigars in perfect condition during all kinds of activities, including golfing and boating.  Call the supplier at 404-550-7143 for distributor pricing. In the meantime, you can see how it works here: http://www.perfectocigarholder.com.
The Bottom Line: Stay lit.

You're the Inspiration
The Pitch: Here's a great brainstorming tool that's just right for meetings, conventions, teambuilding events and more. It' the wooden Force puzzle that features six motivational words like "creative," "effort," "success" and "teamwork." It's from Goodfaire (asi/57698) and pricing starts at: 25; $12.50-R. Click here: http://www.goodfaire.com.
The Bottom Line: Put it all together.