Click here to watch the day-one episode of The Joe Show from ASI Chicago.
Click here to see another episode to find out what Joe uncovered on day two of the Chicago show.
Want more videos? Subscribe now to our YouTube videos.

On the Run
The Pitch: Who wouldn't want to reduce 99.99% of contaminants (including arsenic) from their drinking water? ETS Express (asi/51197) offers the h2go omega water bottle with an activated coconut filter. Get it at $14.99-C for 144 pieces. Think of this for walkers, runners, bikers and anyone who is out and about. See it here: http://etsexpress.com/omega/.
The Bottom Line: Quench the thirst.
ADVERTISEMENT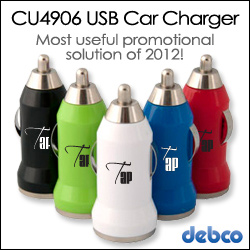 In the Bag
The Pitch: Everybody's banning plastic bags these days, so it makes sense that totes are a hot commodity. Custom Crest (asi/47971) is offering their handy grocery tote at: $1.39-C, 100 until 8/31. This is a natural choice for your local grocery stores and retail shops. Check it out here: http://customcrest.com/.
The Bottom Line: Pack it in.
Stick It
The Pitch: Now is the time to place your calendar orders. Vitronic (asi/93990) is offering early order pricing on their Press-N-Stick calendars through 8/1. Plus, request a specific ship date and they will warehouse your order until then. Check out the options and see a product video here: http://www.vitronicpromotional.com/
The Bottom Line: Set the date.
The Rub
The Pitch: No pain, no gain, right? Here's the solution: Muscle rub with menthol, eucalyptus and camphor from Fantasia (asi/53640). Pitch this for marathons, track teams, health clubs and more. Sell it with the water bottle mentioned above. Pricing starts at: 72; $3.75-A. Click here: http://fantasialogo.com/.
The Bottom Line: Feel better.