ADVERTISEMENT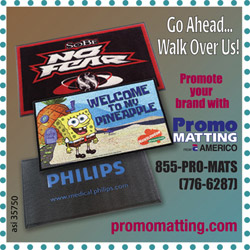 Cool Beans
The Pitch: Helping your clients plan a conference, trade show, product launch or company picnic? Why not tell them about Admints & Zagabor's (asi/31516) corporate color jelly beans in a cellophane bag? It has a custom laminated header card printed in four-color process with full-color magazine-quality printing. Pricing starts at: 300; $1.58-R. Check out item HB19-BEANS on ESP or email: infor@admints.com.  
The Bottom Line: Jelly time.
Mirror Image
The Pitch: This is perfect for pre-class primping or making sure you don't have spinach in your teeth before your public speaking class. Item #1455 from Evans Manufacturing (asi/52840) is a sturdy plastic locker mirror that adheres easily with magnet backing (or optional double-stick adhesive backing). A bottom slot can hold photos or notes. It's available in 25 colors and can be customized. Pricing starts at: 150; $2.55-R. Click here: http://www.evans-mfg.com/.
The Bottom Line: Check you out.
Teach Me How To Nollie
The Pitch: My son Andrew would love this, since he's always trying to conquer the next sick trick. It's a rolling skateboard-design paperweight and paper-clip holder. Ten paper clips are included and it comes in silver and chrome. Pitch this for college and high school programs, younger office workers and even those of us who were kids in the '70s and are feeling nostalgic for our skateboarding days (I preferred roller skating). Dude! Pricing starts at: 100; $10.95-R. Check it out here: http://www.logomark.com/.
The Bottom Line: Rolling along.
Handy Lotion
The Pitch: I have at least three mini hand creams in my purse and another two sitting on my desk. You can never have too many, in my opinion. Lanco Corporation (asi/66224) offers premium hand and body lotion in a ½-oz. clear plastic tube. It's a great idea for traveling, destination and tourism promotions. Also think of this for trade shows and conventions. Customize the label with a spot color imprint of your choice. Pricing for three-day rush service starts at: 250; $1.94-R. Click here: http://www.lancopromo.com/
The Bottom Line: Nice and soft.