| | |
| --- | --- |
| Keeping you in the loop on products and deals you may not have heard about. | July 27, 2011 |
SPONSORED BY


Hi, everyone! Well the office is not very quiet this week since all my buddies are back from the Chicago ASI Show (the peacefulness was nice while it lasted). But I will concentrate and get this e-newsletter written and on its merry way to your inbox. Take a look at the video "Sales Tip" from the Chicago show, where my pal C.J. Mittica talks about custom apparel

 

and then enjoy this edition and don't forget: Send your feedback directly to: khuston@asicentral.com. It may be published in a future issue of Advantages magazine. For free information on products featured in Advantages, click here: www.advantagesinfo.com.

- Kathy Huston, Editor

PRODUCT SPOTLIGHT

PRODUCT SPOTLIGHT





The Joe Show:
New Products

Joe Show Special: New Products
In this episode of The Joe Show, Managing Editor Joe Haley shows off some new and unique items that are perfect for a variety of promotional campaigns. Have clients that want to wow their target audiences? Need some new ideas for the second half of the year? Check out this episode.    

Click here to watch this new products episode of The Joe Show.

Want more videos? Subscribe now to our YouTube videos.

Oh Poop
The Pitch: Imagine my surprise when I walked into my office this week and there was a packet of moose poop balls on my desk. That's right. They are from Symphony Seed Papers (asi/74930). They look like chocolate, but don't be fooled. Plant them and the poop grows into wildflowers. Pretty unique, wouldn't you say? Use them as holiday leave-behinds. For pricing and other information, e-mail Julie@seedcards.com.
The Bottom Line: Down and dirty.

ADVERTISEMENT

| | |
| --- | --- |
| ADVERTISEMENT | ADVERTISEMENT |
Spoon Me
The Pitch: I forgot to pack a spoon for my yogurt again this morning. Now I have to walk all the way down to the ASI Café to get one. I guess I shouldn't complain about a little exercise to go with my yogurt, but as my husband says, if I had nothing to complain about, I wouldn't be happy. I have no complaints about Chemical Light Inc.'s (asi/44888) take on spoons; they have glowing ice cream spoons in fact (now I want ice cream instead of yogurt). The handle of the spoon glows in four colors. These are a fun idea for special events, ice cream parlors, restaurant giveaways with kids' meals and more. Pricing starts at: 200; 55 cents. Click here and check them out: http://www.asi44888.com/.
The Bottom Line: Just desserts.
Party Time
The Pitch: We're having a Happy Hour here in the editorial department tomorrow to celebrate our group of magazine's 11 ASPBE awards. Congrats to all my colleagues and since I'm partial to Advantages, special shout-outs to Advantages Art Director Jim Lang for his gold for a cover, Staff Writer Jen Vishnevsky for her silver for a how-to article, and freelancer Tonia Kimbrough for her bronze for Advantages University. Prorose Inc. (asi/79933) has very cool themed barware which would be perfect for any Happy Hour or special celebration and I especially like their plastic palm-tree-design cooler glass. Think about travel clients too. Pricing starts at: 150; $2.70. See it here: http://www.prorose.com.
The Bottom Line: To the tropics.
Cover Up
The Pitch: I just logged onto Yahoo and a naked man ran across my screen. I'm not kidding (and no, I have not been hitting the sauce; Happy Hour is tomorrow). Put some pants on, mister! Might I suggest the Bamboo by Brandwear French Terry men's pants from Brandwear Basics (asi/41545)? They are made from 70% bamboo rayon, 25% cotton and 5% spandex. They have side seam pockets with no extra bulk, an elastic waist with draw cord and are antimicrobial and easy to care for. The supplier suggests targeting corporate, hospitality, spas and uniform programs. Pricing starts at: one for $72. Try them on for size: http://www.brandwear.ca/.
The Bottom Line: One leg at a time.
PRODUCT SPOTLIGHT
NEW! USB Sticks from AZX Sport ASI/30250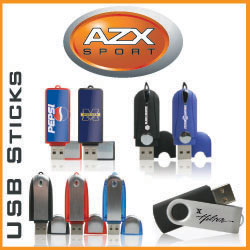 Features: 512MB - 16GB memory size available. Large variety of
colors and shapes. Ability to pre-load files onto USB.

Construction: Full color domed, Laser engraved
and pad printing available.

Lead Time: 1-3 business days on stock USB. 10 business days on
non stock USB. Minimum order 25pcs.

Orders and Art: Info.Advantages@aztex.com

Quote Requests: Info.Advantages@aztex.com

Visit www.azxpromotions.com to see our full line of products.

Or call 1-800-558-4836
CALL FOR QUOTE!
For other new and creative products, visit the Product Central section on ASICentral.com.
Advantages is bringing over 60 top suppliers to a city near you.
Come to the industry's largest and most popular traveling show, the ASI Advantages Roadshow. For a list of cities and dates, visit http://advantagesroadshow.com/. Admission is free for all distributors and salespeople!
SPONSORED BY


Advantages™ Hot Deals is a trademark of the Advertising Specialty Institute. You were sent this newsletter as a benefit of your ASI membership. Copyright 2011, ASI. All Rights Reserved.
If you'd like us to send Advantages Hot Deals FREE to anyone else at your company (or to your off-site sales reps), go to www.asicentral.com/newsletters and complete the online form.
Interested in advertising in Advantages Hot Deals? Send an email to ekoehler@asicentral.com
Click here to subscribe to Advantages™ magazine. If you no longer wish to receive Advantages HotDeals Newsletter, click here
Advertising Specialty Institute®, 4800 Street Road, Trevose, PA 19053