| | |
| --- | --- |
| ADVERTISEMENT | ADVERTISEMENT |
Love It!
The Pitch: The Endless love Bowl from Helping Hands Rewards (asi/60465) is a perfect gift for many occasions and programs. The recycled 11" metal bowl has been handmade by the artisans in Kahlil Ahmed's fair trade workshop in Milak Bujpur, India using recycled bicycle tire spokes. The metal is fashioned to spell "Love" all over the bowl and I heart it very much. Pricing starts at: 25; $30. For information on this charitable supplier, go to: www.helpinghandrewards.org and see the bowl here: http://www.helpinghandrewards.org/docs/HHR_PPAI_2011.pdf.
The Bottom Line: Heavy metal.
Code Word
The Pitch: Creepy or not? Weigh in. A Seattle-based tombstone maker is putting QR codes next to the deceased's name in the headstone. When you scan it with your smart phone, you get pictures and information about the person's life from the grave. OK, it's interesting to say the least and it just goes to show that QR codes are all the rage (in fact, we said it in our July technology issue of Advantages). Get onboard with a slew of QR-coded products from Ariel Premium Supply (asi/36730). They include item number WQR-C006, a pedometer with clear acrylic cover. This would be great for health clubs and the recipient could scan the code and get the skinny on all the happenings at each location. Pricing for this particular item starts at: 100; $3.67. See it here: http://www4.arielpremium.com/qrcodes.php.
The Bottom Line: Get all the info.
Gimme a Hug
The Pitch: Being an original Jersey Girl, I just put some Bruce Springsteen on (using www.Grooveshark.com on my computer, although my son tells me that Spotify will eclipse it). You can't listen to Bruce and not have your spirits lifted (OK, maybe "Streets of Philadelphia" is a little depressing, but for the most part, Bruce will rock your socks). Also rockin' my socks today is the Fuzzy Hugger for wine bottles from Texas Embroidery (asi/91061). It's available in a variety of colors, with feather boas (yes, for your wine bottle…fancy, right?), and you can get a whole load of sayings on it. Everything from "Miss Priss" to "Naughty Nurse." Wouldn't these be fab for bachelorette parties and other special events? Don't worry, you can get something as simple as "Cheers" on it. Pricing starts at: 24; $19. Check out their offerings right here: http://texasinternationalcases.com/.
The Bottom Line: Dress it up.

PRODUCT SPOTLIGHT
NEW! USB Sticks from AZX Sport ASI/30250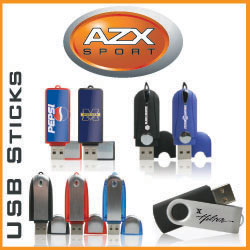 Features: 512MB - 16GB memory size available. Large variety of
colors and shapes. Ability to pre-load files onto USB.

Construction: Full color domed, Laser engraved
and pad printing available.

Lead Time: 1-3 business days on stock USB. 10 business days on
non stock USB. Minimum order 25pcs.

Orders and Art: Info.Advantages@aztex.com

Quote Requests: Info.Advantages@aztex.com

Visit www.azxpromotions.com to see our full line of products.

Or call 1-800-558-4836
CALL FOR QUOTE!
For other new and creative products, visit the Product Central section on ASICentral.com.