| | |
| --- | --- |
| Keeping you in the loop on products and deals you may not have heard about. | July 6, 2011 |
SPONSORED BY


| | |
| --- | --- |
| Well, it's tough to be back after I declared my independence from work for the past five days! But I gotta do what I gotta do and right now, that's write "Hot Deals," so here you go. Don't forget: Send your feedback directly to: khuston@asicentral.com. It may be published in a future issue of Advantages magazine. For additional information, contact the supplier. To unsubscribe, follow the instructions at the end. Kathy Huston, editor | |





The Joe Show:
In The Kitchen

The Joe Show: In The Kitchen
If you can't stand the heat, stay out of the kitchen. In this episode of The Joe Show, Managing Editor Joe Haley shows off some new and unique items that are perfect for the kitchen. Have clients that want to incorporate abundantly useful products in their next promotions? Check out this episode.    

Click here to watch this kitchen products episode of The Joe Show.

Want more videos? Subscribe now to our YouTube videos.

Stop Right There
The Pitch: Being that I have, um, a slight problem knowing when to stop when I pull into the garage, my husband rigged up a tennis ball on a string, so I can only go as far as that. But hey, along comes Smart Park from Smart Play (asi/87800), which is a tennis ball attached to a lanyard. If we had received one of these from, let's say the auto dealer who sold me my adorable new car, Steve-O wouldn't have had to rig one up himself. It's really a great idea and pricing for a printed ball with custom lanyard starts at: 100; $5.08. See it here: http://www.smartplayusa.com/.
The Bottom Line: On the ball.

A Sporting Chance


The Pitch: Game Time drawstring backpacks from Jetline (asi/63344) are perfect for sports club and cheer squad clients all year long, because they come in various themes.
ADVERTISEMENT

They include: soccer, football, tennis, golf, basketball and baseball and are made from 210D nylon. Pricing starts at:

150; $2.99

and you can get free 24-hour rush service. Check them out: http://jetlinepromo.com/.
The Bottom Line: Take one for the team.
| | |
| --- | --- |
| ADVERTISEMENT | ADVERTISEMENT |
ADVERTISEMENT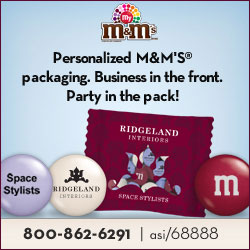 Take Your Temp
The Pitch: I need one of these for my pool! Item AD-373 is a waterproof AM/FM duck radio with a built-in water thermometer. It has a waterproof body and battery compartment. It's from AdVantage Line (asi/31570) and it's also great for hot tubs and baths. Pricing starts at: 25; $15.39. Click here to see this cute little fella: http://www.advantageindustries.com/.
The Bottom Line: Hello, duckling!
Germaphobia
The Pitch: You might say I'm a little on the OCD side, but I wash my hands as soon as I get home from the grocery store. And you know what? This morning, I read an online report that says, verbatim: "Shopping cart handles are a breeding ground for infectious viruses and gut-wrenching bacteria." Thus, they say that grocery stores are the number-one germiest places. So why not encourage your local grocery stores to buy up a boatload of hand sanitizers? And here is my big idea: They can put them in a huge basket at the front of the store with a sign that reads: "Customers please take a complementary bottle. We care about your health." Cal Springs LLC (asi/30111) offers an odorless FDA-approved 58 ml. hand sanitizer gel with a carabiner. Pricing (one working day) starts at: 150; $1.59. See it here: http://www.californialine.com/.
The Bottom Line: Rub it in.

PRODUCT SPOTLIGHT
NEW! USB Sticks from AZX Sport ASI/30250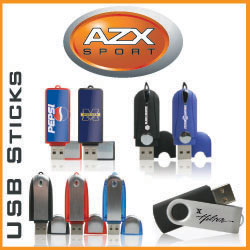 Features: 512MB - 16GB memory size available. Large variety of
colors and shapes. Ability to pre-load files onto USB.

Construction: Full color domed, Laser engraved
and pad printing available.

Lead Time: 1-3 business days on stock USB. 10 business days on
non stock USB. Minimum order 25pcs.

Orders and Art: Info.Advantages@aztex.com

Quote Requests: Info.Advantages@aztex.com

Visit www.azxpromotions.com to see our full line of products.

Or call 1-800-558-4836
CALL FOR QUOTE!
For other new and creative products, visit the Product Central section on ASICentral.com.
Advantages is bringing over 60 top suppliers to a city near you.
Come to the industry's largest and most popular traveling show, the ASI Advantages Roadshow. For a list of cities and dates, visit http://advantagesroadshow.com/. Admission is free for all distributors and salespeople!
SPONSORED BY


Advantages™ Hot Deals is a trademark of the Advertising Specialty Institute. You were sent this newsletter as a benefit of your ASI membership. Copyright 2011, ASI. All Rights Reserved.
If you'd like us to send Advantages Hot Deals FREE to anyone else at your company (or to your off-site sales reps), go to www.asicentral.com/newsletters and complete the online form.
Interested in advertising in Advantages Hot Deals? Send an email to ekoehler@asicentral.com
Click here to subscribe to Advantages™ magazine. If you no longer wish to receive Advantages HotDeals Newsletter, click here
Advertising Specialty Institute®, 4800 Street Road, Trevose, PA 19053