Happy Wednesday, good buddies! Unless you're the guy who recently, in response to an email I sent, used this as his subject line: "Why you are such a stupid idiot." Apparently he wanted to tell me, as he had not been unsubscribed from the list. 

Sales Tip of the Week
There were also expletives involved, so I don't think he's a very good buddy, but you all are! Enjoy this buddy-buddy edition. Send your feedback directly to: khuston@asicentral.com. It may be published in a future issue of Advantages magazine. For free information on products featured in Advantages, click here: www.advantagesinfo.com.

PRODUCT SPOTLIGHT


– Kathy Huston, editor 

Best Buds
The Pitch: Speaking of good buddies, sometimes there's no more special friend than your pet pal. Well, picking up on that, WOV-IN Group (asi/92980) has launched a new line called Promopet, featuring all types of products for pet-related promotions. Take, for example, their individually wrapped dog bones, which would be great for pet shows, pet parades, animal fairs, vets, food suppliers and much more. Pricing starts at: 500; .55-C. Click here and also check out their other offerings: http://www.promopet.com/products/index.php/by-category/treats/medium-size-dog-bone.
The Bottom Line: For your BFFs.

 Hold On Tight
The Pitch: I love watching the Food Network's cooking shows; they just make me want to go out to dinner that much more! Well, Ina Garten, "The Barefoot Contessa," for those of you who don't know, has this product I'm mentioning here. Yes, that's right, the Brella Bag from Rainy Day Solutions (asi/81230), was chosen to be included in Daytime Emmy Award gift bags back in June and Ina is a winner. So is this product, which is a nylon bag, designed to hold the user's umbrella so their hands are free to carry groceries, sports equipment, etc. It also has lots of room to hold keys and such inside and this would be great for sports teams (hello, soccer moms!), outdoor events, grocery stores and more. Pricing starts at: 25; $23.90-P. Check it out: www.brellabag.com.
The Bottom Line: No hands.

ADVERTISEMENT

| | |
| --- | --- |
| ADVERTISEMENT | ADVERTISEMENT |
ADVERTISEMENT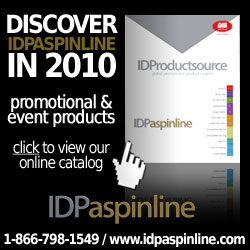 So Relaxing
The Pitch: This kit is perfect for planes, trains and automobiles, and even for my office when I need a little nappy (don't worry, Tim Andrews, I am clearly kidding, right?). Item #71004 is a micro-plush travel kit that includes a neck pillow filled with therapeutic micro-beads, a cozy throw and a matching eye mask all in a nylon travel bag. It's from Relax Right Inc. (asi/81666) and pricing starts at: 12; $48-R. Click right here: http://www.relaxrightproducts.com/Travel_pillows.html.
The Bottom Line: Feeling comfortable.
 
Star Power
The Pitch: So, this evening, a few of us editor types are headed off to a nice restaurant in New York City's theater district for an awards dinner. Turns out our magazines won 14 awards from the American Society of Business Publication Editors. Hold your applause, please … or not. Which brings me to this: You should encourage your clients to start planning now for their end-of-year awards programs, as well as those for next year and nobody does awards better than RS Owens & Co. Inc. (asi/75530); they do the Oscars, after all. I think this relatively inexpensive award is rather unique. Item R2921 has a round acrylic award on a curved Moonstone base with a 3D star design and it measures 7 inches x 8 ¼ inches. Pricing starts at: one for $98.60-P. You can see it here: http://www.rsowens.com/products/product.asp?DEPARTMENT_ID=69&ITEM_ID=2055.
The Bottom Line: Cast in stone.

PRODUCT SPOTLIGHT
NEW! USB Sticks from AZX Sport ASI/30250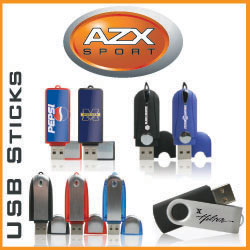 Features: 512MB - 16GB memory size available. Large variety of
colors and shapes. Ability to pre-load files onto USB.

Construction: Full color domed, Laser engraved
and pad printing available.

Lead Time: 1-3 business days on stock USB. 10 business days on
non stock USB. Minimum order 25pcs.

Orders and Art: Info.Advantages@aztex.com

Quote Requests: Info.Advantages@aztex.com

Visit www.azxpromotions.com to see our full line of products.

Or call 1-800-558-4836
CALL FOR QUOTE!
For other new and creative products, visit the Product Central section on ASICentral.com.
Advantages is bringing over 60 top suppliers to a city near you. 
Come to the industry's largest and most popular traveling show, the ASI Advantages Roadshow. For a list of cities and dates, visit http://advantagesroadshow.com/. Admission is free for all distributors and salespeople! 
SPONSORED BY


Advantages™ Hot Deals is a trademark of the Advertising Specialty Institute. You were sent this newsletter as a benefit of your ASI membership. Copyright 2010, ASI. All Rights Reserved. 
If you'd like us to send Advantages Hot Deals FREE to anyone else at your company (or to your off-site sales reps), go to www.asicentral.com/newsletters and complete the online form.
Interested in advertising in Advantages Hot Deals? Send an email to ddienna@asicentral.com
Click here to subscribe to Advantages™ magazine. 
Advertising Specialty Institute®, 4800 Street Road, Trevose, PA 19053