Clip-On Connection
The Pitch: The name of this product cracks me up: "Spazzles" clip on to hats, laces, backpacks, whatever and are like a wee, mini billboard promoting everything from cause awareness, special events, sports teams and more. They are from none other than BamBams (asi/38228) and are reasonably priced at: 100; $2.02-R. http://www.bambams.com/.
The Bottom Line: Spazzles razzle dazzle.
| | |
| --- | --- |
| ADVERTISEMENT | ADVERTISEMENT |
Personal Trainer
The Pitch: Rest easy, everyone: "The Situation" will be back for season three of "Jersey Shore." I really would have missed those abs. Well, here's something for football players who may not be able to hit the gym every day. QuickSeries Publishing Inc. (asi/68194) offers the Strength and Conditioning for Football booklet. This is a great idea for school football teams, which should be starting up practice right about now. The booklet shows players how to train safely and provides flexible exercises, abdominal training, training basics, training programs and program designs. It has 24 laminated pages with die-cut indexes and a plastic spiral bound. Pricing starts at: 50; $4.31-R. See it here: http://www.quickseries.com/.
The Bottom Line: Muscle up.

| | |
| --- | --- |
| ADVERTISEMENT | ADVERTISEMENT |
Say "Ahhhhhh"
The Pitch: This item makes me want to shut off my office lights, put a "do not disturb" sign on my door to ward off pesky co-workers (not naming names) and relax for a little bit. Item ML-SE950 from Penguin Products LLC (asi/77074) is a therapeutic gel mask. The supplier suggests you recommend it to day spas, and for travel-related markets, gifts, and massage centers. And to leave you feeling even more rejuvenated, it just so happens to be on sale at EQP: 72; $3.99-R until 7/31, so hurry up and order! Email: info@fasttrackpromos.com.
The Bottom Line: Refresh and renew.

PRODUCT SPOTLIGHT
NEW! USB Sticks from AZX Sport ASI/30250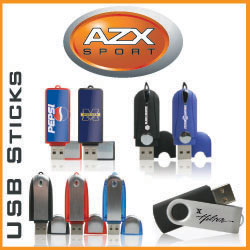 Features: 512MB - 16GB memory size available. Large variety of
colors and shapes. Ability to pre-load files onto USB.

Construction: Full color domed, Laser engraved
and pad printing available.

Lead Time: 1-3 business days on stock USB. 10 business days on
non stock USB. Minimum order 25pcs.

Orders and Art: Info.Advantages@aztex.com

Quote Requests: Info.Advantages@aztex.com

Visit www.azxpromotions.com to see our full line of products.

Or call 1-800-558-4836
CALL FOR QUOTE!
For other new and creative products, visit the Product Central section on ASICentral.com.