It's just another manic Monday (thanks, Bangles!). But let's make it a fun day, at least for about three minutes, with this brand-new "Hot Deals." Enjoy this edition. Send your feedback directly to: khuston@asicentral.com. It may be published in a future issue of Advantages magazine. For free information on products featured in Advantages, click here: www.advantagesinfo.com.

PRODUCT SPOTLIGHT


– Kathy Huston, editor 

Yeah, Baby!
The Pitch: I guess I lacked creativity when I named my sons plain-old Matthew and Andrew. I just read that these days, the fastest-rising baby names for boys are: Castiel, Bentley, Eoin (say what?), Easton and Lucian. For girls, they are: Tenley, Harper, Everleigh, Martina and Sookie (at least it's not Snooki). Peter Pauper Press Inc. (asi/77802) offers item #9250, The Little Book of Baby Names by Karen Kaufman Orloff. It includes more than 4000 names, variations, and nicknames, with origins and meanings grouped by gender. This is a fun idea for obstetricians, maternity wards, baby showers and any group targeting expectant parents. Pricing starts at: 100; $8.03-R. Click here: http://www.peterpauper.com/.
The Bottom Line: Book it.

ADVERTISEMENT


ADVERTISEMENT

Save Me
The Pitch: Great idea for your golf-related clients right here, folks. Stromberg Brand (asi/89955) offers item CPTB-1, the Golf Club Saver Umbrella, which fits on your golf bag and protects your clubs from the rain. You don't want your clubs to have a bad hair day, do you? OK, now I'm just being silly. Pricing starts at: 25; $15.50-R. See it here: http://www.strombergbrand.com.
The Bottom Line: Protect and serve.
Krazy Kat
The Pitch: My cat Sneakers thinks he's a dog. One recent morning, for instance, when Steve and I decided to go for a walk, he followed us every step of the way, like he was a puppy. We laughed. You know what else makes cats funny? Catnip. The Page Seed Company (asi/25760) offers the Pet Grazing Garden, which includes six packets of seeds for these pet-safe favorites: Catnip, Chamomile, Parsley, Thyme, Spinach and Pet Salad Blend. Pricing starts at: one for $5-P. For more info, go to: www.pageseed.com.
The Bottom Line: The cat's meow.
Bamboo-ti-ful
The Pitch: Don't you just love salad hands? Well, Totally Bamboo (asi/91565) offers brand-new "NewBoo" salad hands made entirely from rapidly renewable bamboo. Item #20-2124 would be a nice addition to a food-filled basket, or BBQ gift pack. Pricing for blanks starts at: 10; $20-P and added fees apply for laser engraving. Email Amy: amy@totallybamboo.com.
The Bottom Line: I gotta hand it to them.
PRODUCT SPOTLIGHT
NEW! USB Sticks from AZX Sport ASI/30250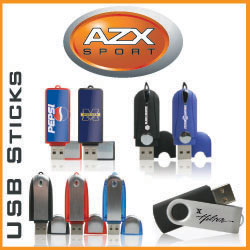 Features: 512MB - 16GB memory size available. Large variety of
colors and shapes. Ability to pre-load files onto USB.

Construction: Full color domed, Laser engraved
and pad printing available.

Lead Time: 1-3 business days on stock USB. 10 business days on
non stock USB. Minimum order 25pcs.

Orders and Art: Info.Advantages@aztex.com

Quote Requests: Info.Advantages@aztex.com

Visit www.azxpromotions.com to see our full line of products.

Or call 1-800-558-4836
CALL FOR QUOTE!
For other new and creative products, visit the Product Central section on ASICentral.com.
Advantages is bringing over 60 top suppliers to a city near you. 
Come to the industry's largest and most popular traveling show, the ASI Advantages Roadshow. For a list of cities and dates, visit http://advantagesroadshow.com/. Admission is free for all distributors and salespeople! 
Advantages™ Hot Deals is a trademark of the Advertising Specialty Institute. You were sent this newsletter as a benefit of your ASI membership. Copyright 2010, ASI. All Rights Reserved. 
If you'd like us to send Advantages Hot Deals FREE to anyone else at your company (or to your off-site sales reps), go to www.asicentral.com/newsletters and complete the online form.
Interested in advertising in Advantages Hot Deals? Send an email to ddienna@asicentral.com
Click here to subscribe to Advantages™ magazine. 
Advertising Specialty Institute®, 4800 Street Road, Trevose, PA 19053