Hi, buddies. A good portion of the editorial department is in Chicago for the ASI Show this week, so my office is, dare I say, peaceful. Ahhhh. Which means I am writing with little to no distractions, so this should be an extra-good edition, right? Enjoy! Send your feedback directly to: khuston@asicentral.com. It may be published in a future issue of Advantages magazine. For free information on products featured in Advantages, click here: www.advantagesinfo.com.

PRODUCT SPOTLIGHT


– Kathy Huston, editor 

Pop-ular Idea
The Pitch: It has been raining cats and dogs here lately and there's nothing better to do on such a day than curl up on the couch and watch back-to-back movies on either the Hallmark Channel or Lifetime Movie Network – take your pick; those channels really suck you in (well, me at least). Of course, you should have a good supply of popcorn on hand. A La Carte (asi/30350) has a gift box with five packs of microwave popcorn that is just popping with possibilities. Think: College recruitment, movie theater promotions, special events and more. Pricing starts at: 50; $10.25-R. Click here: http://www.alacarteline.com/.
The Bottom Line: Business is bursting.

Goody Basket
The Pitch: It's Bastille Day, folks, and the French are celebrating like crazy. Maple Ridge Farms (asi/68680) has something perfect for any celebration, in France or anywhere else. Item CRH2309 is a large food basket that's great for a larger group. It includes: milk chocolate almonds, smoked salmon, garlic and herb pita chips, pecan brittle, Virginia peanuts, Ghirardelli chocolate squares, white chocolate amaretto wafer cookie, Scottish shortbread, cinnamon wafer cookie and chocolate raspberry cookies. Plus, you can get a 10% discount for early orders, which ship later (order by October 15). Make sure you write "10% early order discount" on your purchase orders. Think about your holiday promotions now! Click here: http://www.mapleridge.com/.
The Bottom Line: Feed the masses.

ADVERTISEMENT

Bucks in Bloom
The Pitch: The financial market is bouncing back and Numo (asi/74710) offers a fun, new Money Tree mug. It's temperature-reactive, so when hot liquid is poured into it, the leaves disappear and, voila! Money! (If only it was that easy.) Pitch this to insurance and mortgage companies, banks, credit unions, and any market that can help your money grow or help you save money. This would also be a unique idea for employee recruiters ("watch your career blossom," you get the idea). Pricing starts at: 72; $3.44-R. For more information on item 356-MAG-090, email: info@numomfg.com.
The Bottom Line: Contrary to what your dad said, money does grow on this tree.

| | |
| --- | --- |
| ADVERTISEMENT | ADVERTISEMENT |
Save the Planet
The Pitch: A tree grows in the rainforest, with Groline's (asi/58295) new Rainforest Plant a Tree Certificate (item 24B2). It's a colorful announcement that a new tree will be planted and it can be framed. Of course, this is ideal for any eco-related promotion. But also think about nurseries and farm markets and this would be a nice volunteer gift too and a great way to commemorate a special occasion, such as a birth. Pricing starts at: 300; $1.49-R. Email: sales@thegroline.com.
The Bottom Line: See the forest for the trees.
| | |
| --- | --- |
| ADVERTISEMENT | ADVERTISEMENT |
PRODUCT SPOTLIGHT
NEW! USB Sticks from AZX Sport ASI/30250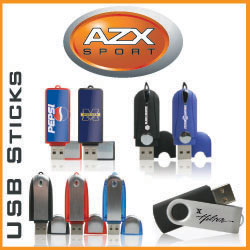 Features: 512MB - 16GB memory size available. Large variety of
colors and shapes. Ability to pre-load files onto USB.

Construction: Full color domed, Laser engraved
and pad printing available.

Lead Time: 1-3 business days on stock USB. 10 business days on
non stock USB. Minimum order 25pcs.

Orders and Art: Info.Advantages@aztex.com

Quote Requests: Info.Advantages@aztex.com

Visit www.azxpromotions.com to see our full line of products.

Or call 1-800-558-4836
CALL FOR QUOTE!
For other new and creative products, visit the Product Central section on ASICentral.com.
Advantages is bringing over 60 top suppliers to a city near you. 
Come to the industry's largest and most popular traveling show, the ASI Advantages Roadshow. For a list of cities and dates, visit http://advantagesroadshow.com/. Admission is free for all distributors and salespeople! 
Advantages™ Hot Deals is a trademark of the Advertising Specialty Institute. You were sent this newsletter as a benefit of your ASI membership. Copyright 2010, ASI. All Rights Reserved. 
If you'd like us to send Advantages Hot Deals FREE to anyone else at your company (or to your off-site sales reps), go to www.asicentral.com/newsletters and complete the online form.
Interested in advertising in Advantages Hot Deals? Send an email to ddienna@asicentral.com
Click here to subscribe to Advantages™ magazine. 
Advertising Specialty Institute®, 4800 Street Road, Trevose, PA 19053