Hola! We are feeling hot, hot, hot here in the Philly suburbs this week, people.
I know, because I am sweating writing this. Too much information? 

Sales Tip of the Week
Well, you know me. Enjoy this hotter than hot edition and send your feedback directly to: khuston@asicentral.com. It may be published in a future issue of Advantages magazine. For free information on products featured in Advantages, click here: www.advantagesinfo.com.

PRODUCT SPOTLIGHT


– Kathy Huston, editor 


The Joe Show:
Election Products 

In conjunction with the Hot Issue of Counselor this August, Managing Editor Joe Haley has dedicated The Joe Show over the past two months to showing off the hottest products in the ad specialty market. Broken into fun categories, each week he's focused on a different theme – and each of the items will be shown in the August Hot Issue.

In this final Hot Issue episode, Joe asks for your vote and displays some of the newest election products in the market. As 2010 is a big election year, now is the time to gear up. Have local candidates looking for new ways to promote themselves? Check out this episode. 

Click here to see this Hot Products edition of The Joe Show – and to check out all six Hot Issue episodes.

Want more videos? Subscribe now to our YouTube videos.

Bunch of Bull
The Pitch: According to USA Today, a "gore-free" first running of the bulls was held today in Spain to mark the start of the Spanish party season (isn't that all year long?). Well, anyone who is feeling bullish would appreciate the Big Bull Bank from Ariel Premium Supply (asi/36730). A twist on your traditional piggy, this would be great for any of your financial clients. Pricing starts at: 100; $3.02-R. See item WOF-BB07 here: http://www4.arielpremium.com/.
The Bottom Line: Bank on it.

ADVERTISEMENT

Big Day
The Pitch: Happy birthday to the Dalai Lama, who turned 75 yesterday! Hello, Dalai … you know I couldn't resist. Big birthdays such as this call for something special like this truly unique item from Sweetique LLC (asi/84571). Item #010 is a

"Happy Birthday" egg; a real eggshell filled with chocolate truffle

. They can be imprinted with other themes too and are just perfect for special events. Pricing starts at: 1,000; $3.99-R. See it here: http://www.sweetiquepremiums.com/.
The Bottom Line: Egg-cel at sales.

| | |
| --- | --- |
| ADVERTISEMENT | ADVERTISEMENT |
Band Together
The Pitch: Let me tell you that these types of shaped rubber bands are all the rage among teens and tweens (I've seen both my 16-year-old son and my 9-year-old nephew with them on their wrists). Jornik (asi/63549) offers their version with Squiggles, which come in various themes and four to a pack. Use these in your fundraisers, special events, teen parties, school stores and more. Plus, item JK-3901 is on sale until 8/31, at: 250-.99-R. Click here: http://www.jornik.com/.
The Bottom Line: All in the wrist.

ADVERTISEMENT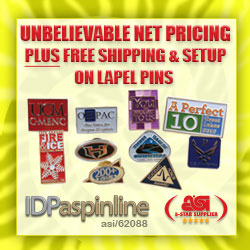 Buzz-Worthy
The Pitch: OK, you're going to think I'm weird, but I noticed my first three headlines started with a "B", so I wanted to make this one start with a "B" too. It's just how I challenge myself. Anyway, in so doing, I found a great product for day camps and schools. Item #2817 from California Tattoos (asi/43530) is a temporary tattoo with a cute bumblebee on it and it says, "Bee cool, don't smoke." Pricing starts at: 1; .91-R.Click here and enter "Bee cool": http://www.caltattoo.com/
The Bottom Line: Kid stuff.
ASI Online Learning Center
Did you know you can take self-paced, on-demand courses at ASI Education's Online Learning Center? This is the newest and most convenient way for distributors, decorators and suppliers to get educated. In our newest course for distributors, "Break Into These Five Hot Apparel Markets," we'll unveil five markets that are buying lots of decorated apparel (think: education, high-tech companies, government entities and more), the types of apparel they buy and how to make the pitch and close the sale. Click here to take the course.

PRODUCT SPOTLIGHT
NEW! USB Sticks from AZX Sport ASI/30250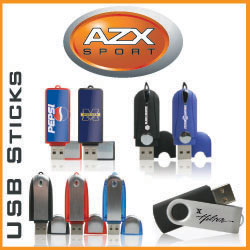 Features: 512MB - 16GB memory size available. Large variety of
colors and shapes. Ability to pre-load files onto USB.

Construction: Full color domed, Laser engraved
and pad printing available.

Lead Time: 1-3 business days on stock USB. 10 business days on
non stock USB. Minimum order 25pcs.

Orders and Art: macleanb@aztex.com

Quote Requests: macleanb@aztex.com

Visit www.azxpromotions.com to see our full line of products.

Or call 1-800-558-4836
CALL FOR QUOTE!
For other new and creative products, visit the Product Central section on ASICentral.com.
Advantages is bringing over 60 top suppliers to a city near you. 
Come to the industry's largest and most popular traveling show, the ASI Advantages Roadshow. For a list of cities and dates, visit http://advantagesroadshow.com/. Admission is free for all distributors and salespeople! 
Advantages™ Hot Deals is a trademark of the Advertising Specialty Institute. You were sent this newsletter as a benefit of your ASI membership. Copyright 2010, ASI. All Rights Reserved. 
If you'd like us to send Advantages Hot Deals FREE to anyone else at your company (or to your off-site sales reps), go to www.asicentral.com/newsletters and complete the online form.
Interested in advertising in Advantages Hot Deals? Send an email to ddienna@asicentral.com
Click here to subscribe to Advantages™ magazine. 
Advertising Specialty Institute®, 4800 Street Road, Trevose, PA 19053