Sales Tip of the Week

Today, depending on when you're receiving this edition, the clock either has struck or will strike 04:05:06 07/08/09. Yes, I know...pretty cool, and also cool because numerologists say the alignment could mean it's a good day to make good money and have good health. So here are some ideas to help you make good money and healthy sales. Send your feedback directly to: khuston@asicentral.com. It may be published in a future issue of Advantages magazine. For free information on products featured in Advantages, click here: www.advantagesinfo.com.
 

– Kathy Huston, editor 
ADVERTISEMENT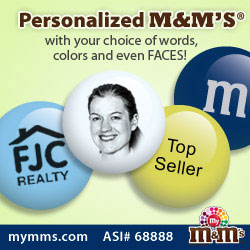 Healthy Start (granola mix)
The Pitch: It's not often that I sit at my breakfast table wondering what the perfect granola would be like. In fact, it's never; it's more like, should I toast my Pop Tart or not? Of course, I should start my day in a healthier way and, that's exactly how MixMyGranola (asi/71801) came to be. Three friends, Matt, Andreas and Raoul were discussing granola at breakfast one day and each had a different idea of what they'd prefer. They decided to start a business where anyone could mix their own granola ingredients. Put some hot fudge and whipped cream on top and count me in! Their customizable granola mix in an 8-oz. paper bag with a transparent window front would be just right for any number of markets. Think: marathons, trade shows, weight-loss programs and more. Pricing starts at: 50; $5.49 (T). E-mail Raoul for further information: raoul@mixmygranola.com.
The Bottom Line: They will be nuts about it.
Story Hour (CD)
The Pitch: Did you know that "You're the Inspiration" by Chicago was my wedding song? Of course you didn't. Why would you? Yes, I have been inspiring my hubby Steve-O for the past 21 years. (Why are you laughing? That's not nice.) At any rate, we could all use some inspiration, especially these days, and along comes The American Storyteller Radio Journal (asi/91091) with "Profiles in Inspiration." It's a custom compilation of great American stories on CD, selected from the nationally syndicated radio feature of the same name. There are 15, 4-minute stories. Pricing starts at: 100; $8.06 (R). For more information, e-mail Jane: jane@theamericanstoryteller.com.
The Bottom Line: Radio revenue.
Play Dress Up (water bottle & "hoodie")
The Pitch: When we were little kids, my sister Colleen and I used to catch frogs and then dress them up in "clothes" we fashioned out of tissues. I know...it borders on animal cruelty, but we were only trying to make them fabulous. Gordon Industries Ltd. (asi/57800) dresses things up in a non-traumatizing way; specifically, with a "hoodie" for your water bottle. Item SWB-10 is a BPA-free, biodegradable water bottle covered with a hooded sweatshirt. Plus, there's a front pocket on it to hold things, such as your tickets to the big college game. It's perfect for any school market. Pricing starts at: 72; $7.77 (R). Check it out here: www.gordonsinclair.com.
The Bottom Line: Save the frogs, dress the bottles.
Big Flops (foldable flip flops)
The Pitch: Just when I think I've seen everything, this is something I haven't seen before: flip flops that fold in half and fit into their nylon pouch. Item FF-EMB is from nMotion LLC (asi/73992). It's a unique idea for resorts, spas, charity walks and more...how about a wedding reception giveaway, so that every lady can take her heels off and prove she is, in fact, the dancing queen? Pricing starts at: 250; $12.79 (S). See them at: www.nmotiontechnologies.com.
The Bottom Line: Purse-perfect.
Read the Tea Leaves (tea)
The Pitch: Say Thank You With Coffee (asi/85155) is apparently an equal-opportunity provider. Now they offer gourmet premier tea too. Each tea pouch is filled with four individually wrapped tea bags and is zip locked and heat sealed to guarantee freshness. Each pouch can be individually personalized to boot. Pricing starts at: 72; $1.95 (R). Web address: www.saythankyouwithcoffee.com.
The Bottom Line: Bag a sale.

Register for FREE ASI Webinars!
Log on to ASI's Educational Webinars, where ad specialty professionals go to stay informed about the latest trends and business acumen in the marketplace today. Choose from a variety of courses offered to help distributors and suppliers increase sales and grow profits, manage operations and expand the services you provide. Register for these upcoming Webinars at ASICentral.com/webinars.
July 15, 2009: Sneak Peek: Best Business-Building Strategies from '09 Counselor State of the Industry (2-3 p.m. EST)
Get a sneak peek of top sales, marketing and operations strategies included in Counselor's 2009 State of the Industry issue. Join ASI Magazines Editor-in-Chief Melinda Ligos, Counselor Editor Andy Cohen and Stitches Editor Nicole Rollender in this fast-paced, tip-packed Webinar.

Register now!
August 5, 2009: Lights, Camera, Action: How ASI Videos Can Help Build Your Business
(2-3 p.m. EST)
Learn how your business can benefit today with tips from ASI's extensive video program: We've got videos covering industry news and ASI Shows, wearables and decorating trends, new products, ASI research, products and services, and much more.

Register now!