| | |
| --- | --- |
| ADVERTISEMENT | ADVERTISEMENT |
No Slips
The Pitch: Heres a very simple-yet-clever idea: the Slip Clip from the Slip Clip Company (asi/91093) fits on most lounge/beach chairs and holds a beach towel up. Pitch this for cruise lines, resorts, pool clubs and more and according to the supplier, it can also hold up trash bags, keep tablecloths on and then some. Check it all out here: http://theslipclip.com.
The Bottom Line: Keep it together.

ADVERTISEMENT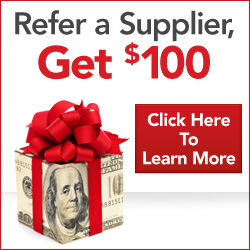 A Banner Day
The Pitch: We dropped my youngest back at college yesterday (sad face); we will miss him, but he was very happy to go back. College kids would also be happy to receive a banner pen from Bam Bams (asi/38228). The supplier suggests that campuses give them out to incoming freshmen and include relevant info on the banner, like the team schedule and important numbers. I think that's a great idea. For pricing and various options, click here: http://www.bambams.com.
The Bottom Line: Roll it out.
Selfie
The Pitch: Here's the perfect product to go with the towel clip mentioned above. The beach towel with self tote from Terry Town (asi/90913) is a terry velour beach towel with a terry velour tote sewn on back. The towel folds neatly into the bag after use. I like the leopard print, 'cause I'm a cougar. Just kidding! Steve-O's 15 days older than me. Anyway, this is also a fun idea for resorts and pool clubs (summer's coming, people!). For pricing and other info on item BVT213, click here: http://terrytown.com/.
The Bottom Line: Throw in the towel.