| | |
| --- | --- |
| ADVERTISEMENT | ADVERTISEMENT |
Hey, Bubba
The Pitch: OK, here's something I've not seen before, and I have seen everything when it comes to promo products, trust me. Cheer Gloves from The Bubba Glove Company (asi/90704) are stretch gloves made of 95% acrylic/5% spandex. They have texting tips on the thumb and first two fingers. But the clincher is that the back of each glove is covered with 20 poms in various colors, so when you're clapping it also looks like you're waving your pom poms. Now come on, is that the spirit or what? See them and a very cute video (kudos to the actors and director) here:  http://bubbaglove.com/.
The Bottom Line: Shake it up.

ADVERTISEMENT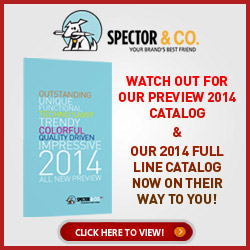 Best Buds
The Pitch: Any kid or young adult would be all over the custom-shaped ear buds from Corporate Key (asi/63053). I'm talking cupcakes, sports balls, ladybugs, robots and more. You can get them for as low as $2.49 net. Call 866-438-5655 or email sales@corporatekey.com to see how they can fit into any one of your promotions.
The Bottom Line: Now hear this.

Sweet Heart
The Pitch: So now that we've gotten those big holidays out of the way, shouldn't we all be thinking about Valentine's Day promotions and events? Chocolate Inn/Taylor & Grant (asi/44900) has 1-oz., foil-wrapped heart-shaped chocolates in milk or dark. I prefer dark, if anyone's paying attention. Pricing is as low as $1.89-C, and the supplier is offering free set-up until 2/17; use promo code Love14 (aww, isn't that the cutest promo code?). Of course, these would work well for any number of promotions and events past Valentine's Day (weddings, proms, romantic destination promos, etc.). Check it out: http://www.taylor-grant.com.
The Bottom Line: Show me some love.