| | |
| --- | --- |
| Keeping you in the loop on products and deals you may not have heard about. | January 16, 2012 |



Are you off work today to celebrate Martin Luther King's birthday? If yes, enjoy your day off. You can read this tomorrow. If not, we're in the same boat, so enjoy this edition today and send




Let's Get Social


If you want to get great sales tips, daily inspiration, fun product ideas, helpful videos and more, "like" us on our Advantages magazine Facebook page and spread the word to your colleagues. Go to: www.facebook.com/advantagesmag and like our page, because we love you. You can also follow us on Twitter: @kathyadvantages and @Jen_Advantages.



Shout It Out
The Pitch: Was it a fabulous football weekend or what? The Giants are my backup team, since the Eagles are out (I know it doesn't make sense, but I spent 24 years of my life in North Jersey, so get over it). Between Steve's excellent batch of chili and the Giants' win, there was a lot of cheering going on. It would have been fun if we had BamBams' (asi/38228) new 8 x 5-
ADVERTISEMENT

inch paper megaphones (as if I could get any louder). You should think of them for school and sports fundraisers, sales conferences, motivational retreats and more. Pricing starts at: 500; $2.32. For more info, email: sales@bambams.com.
The Bottom Line: It's gonna get loud.


ADVERTISEMENT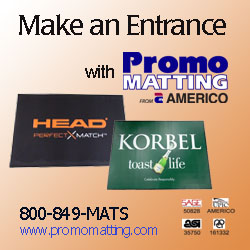 Have a Ball
The Pitch: While we're on the subject of sports, Idproductsource/Aspinline (asi/62088) has a great new product. It's The Ballgame Bag, a basketball-jersey-style shopping bag that turns into a ball-shaped 3" x 3" pouch! Pricing starts at: 5000; $3.45. Pitch this to your school clients and local athletic leagues. Click here: http://www.idpaspinline.com.
The Bottom Line: Three-point shot.
Play Your Cards Right
The Pitch: This product brings me back to my days playing Gin Rummy with my grandma at her kitchen table (a quarter a hand...we were high rollers). It's a plastic playing card holder that holds 1-13 playing cards. It can also be used as a menu holder and note holder. It's from Molenaar LLC (asi/71980). Casinos and game-night fundraisers could be targets, as well as restaurants. Pricing starts at: 48; $2.50. See it here: http://miline.com/.
The Bottom Line: Show your hand.
Sun Sense
The Pitch: I don't know if my friends at the ASI Orlando Show will be getting tan this week, since it's only 68 degrees and partly cloudy right now, but sun worshippers in destinations where the sun is shining bright would benefit from the UV Keychain from Best Promotion Source LLC (asi/40443). It detects UVA and UVB rays and when the color changes, it is time to reapply sunscreen. Your travel-related clients will love it; also think of this for dermatologists and skincare experts. Pricing starts at: 1,000; $1.17 (Canadian). For more information on item BP10139, email: order@bestpromotionsource.com.
The Bottom Line: Don't get burned.
PRODUCT SPOTLIGHT
Dose-Alert Pill Reminder
Exclusively from Dose-Alert Corp- asi/77811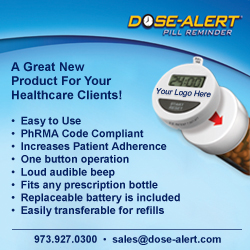 Gorgeous The patented Dose-Alert pill reminder is a PhRMA compliant device that is perfect for any of your healthcare clients, including:

pharma companies
insurance companies
hospitals
pharmacies
long term care facilities
many others
Our patented device has ample space for branding, is inexpensive, small, light and comes in several formats: adhesive backing, magnetic backing and key ring.
For your clients, we can produce FREE renditions and PowerPoint presentations customized with your client's logo in just 24 hours.
Visit our website to see more great products!
PREVIEW THE ASI SHOW!

CLICK HERE FOR SPECIAL OFFERS


Apothecary Products Inc.
asi/36545

Cobra Cap
asi/45575

Prime Resources Corp (USA) asi/79530

Vonco Products Inc. asi/94180
Advantages™ Hot Deals is a trademark of the Advertising Specialty Institute. You were sent this newsletter as a benefit of your ASI membership. Copyright 2012, ASI. All Rights Reserved.
If you'd like us to send Advantages Hot Deals FREE to anyone else at your company (or to your off-site sales reps), go to www.asicentral.com/newsletters and complete the online form.
Interested in advertising in Advantages Hot Deals? Send an email to ekoehler@asicentral.com
Click here to subscribe to Advantages™ magazine. If you no longer wish to receive Advantages HotDeals Newsletter, click here
Advertising Specialty Institute®, 4800 Street Road, Trevose, PA 19053