| | |
| --- | --- |
| Keeping you in the loop on products and deals you may not have heard about. | January 9, 2012 |

Sales Tip of the Week

It's the start of a new week, so here are some new ideas to jumpstart your sales. Enjoy this edition and send your feedback directly to me at: khuston@asicentral.com. It may be published in a future issue of Advantages magazine. For free information on products featured in Advantages, click here: www.advantagesinfo.com.

PRODUCT SPOTLIGHT



– Kathy Huston, editor
Let's Get Social
If you want to get great sales tips, daily inspiration, fun product ideas, helpful videos and more, "like" us on our Advantages magazine Facebook page and spread the word to your colleagues.Go to: www.facebook.com/advantagesmag and like our page, because we love you. You can also follow us on Twitter: @kathyadvantages and @Jen_Advantages.
The Joe Show: An Eclectic Mix
In this episode of The Joe Show, Managing Editor Joe Haley shows off five products sure to win rave reviews from clients and prospects. Need an idea to target youth sports organizations and coaches? Want a terrific trade show giveaway? Already thinking about Valentine's Day and March Madness promotions? Check out the video.

Click here to watch this innovation-filled edition of The Joe Show.

Want more videos? Subscribe now to our YouTube videos



The Joe Show:
An Eclectic Mix
Shine a Light
The Pitch: Yesterday, my son Andrew was looking for a mini-flashlight for some sort of photography experiment he was doing (he got a new camera for Christmas). When I said we didn't have one, he said, "With the industry you're in? I would think you would have one lying around somewhere." Which made me think, yes, everyone should have a mini-flashlight on hand. Gold Bond Inc. (asi/57653) is offering a new version on a carrying strap. It has an oversized barrel with a large imprint area, nine bright LED lights and push-button operation. It includes 3 AAA alkaline batteries. This is perfect for trade shows, hardware store promotions and more. Pricing starts at: 250; $4.45. Click here: http://www.goldbondinc.com/.
The Bottom Line: Little buddy.
| | |
| --- | --- |
| ADVERTISEMENT | ADVERTISEMENT |
It's a Date
The Pitch: Working from home today, with CNN on in the background (I like to keep up on my news). A commercial for ChristianMingle.com just came on. Allegedly, this online dating service helps you find "God's perfect match." Which makes me wonder...would God approve that I met Steve at a frat party? No matter how you find your perfect match (through God, beer goggles or otherwise), The Romance Kit from Admints & Zagabor (asi/31516) would come in handy. It includes a heart tin soy candle, premium cherry lip balm, and mints. And it's just in time for Valentine's promos. Pricing starts at: 100; $10.45. Click here: http://admints.com/.
The Bottom Line: Some romantic evening.
Strike Zone
The Pitch: Andrew's teachers are on strike, starting this morning. He is happy; I am not. A much better strike, of course, is associated with bowling. Which brings me to this 6-inch by 9-inch acrylic bowling award on a black piano-finish wooden base. It's from Classy Glass Inc. (asi/45237). Think of this for all sorts of bowling leagues, including high-school and college teams. Pricing starts at: one for $59.79. Check it out: http://classyglass.net/.
The Bottom Line: For the champs.
Dog Breath
The Pitch: If I tried to brush Sneakers' teeth, he would scratch my eyes out, but dogs are usually more amenable to the whims of their owner-friends. Help any pooch have fresher breath and healthier teeth with a five-inch pet toothbrush from Promopet (asi/79698). Obvious targets include vets, pet stores, rescue organizations and pet fairs. Pricing starts at: 144; $1.25. See it here: http://www.promopet.com/.
The Bottom Line: No cavities!
PRODUCT SPOTLIGHT
Dose-Alert Pill Reminder
Exclusively from Dose-Alert Corp- asi/77811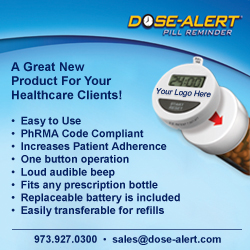 Gorgeous The patented Dose-Alert pill reminder is a PhRMA compliant device that is perfect for any of your healthcare clients, including:

pharma companies
insurance companies
hospitals
pharmacies
long term care facilities
many others
Our patented device has ample space for branding, is inexpensive, small, light and comes in several formats: adhesive backing, magnetic backing and key ring.
For your clients, we can produce FREE renditions and PowerPoint presentations customized with your client's logo in just 24 hours.
Visit our website to see more great products!
PREVIEW THE ASI SHOW!

CLICK HERE FOR SPECIAL OFFERS


Apothecary Products Inc.
asi/36545

Cobra Cap
asi/45575

Prime Resources Corp (USA) asi/79530

Vonco Products Inc. asi/94180
Advantages™ Hot Deals is a trademark of the Advertising Specialty Institute. You were sent this newsletter as a benefit of your ASI membership. Copyright 2012, ASI. All Rights Reserved.
If you'd like us to send Advantages Hot Deals FREE to anyone else at your company (or to your off-site sales reps), go to www.asicentral.com/newsletters and complete the online form.
Interested in advertising in Advantages Hot Deals? Send an email to ekoehler@asicentral.com
Click here to subscribe to Advantages™ magazine. If you no longer wish to receive Advantages HotDeals Newsletter, click here
Advertising Specialty Institute®, 4800 Street Road, Trevose, PA 19053