Hit the Slopes
The Pitch: This Friday, we are taking my son and his buddy for a weekend getaway to a ski resort in the Poconos for his 17th birthday. Andrew has been wanting to snowboard forever. I, on the other hand, am perfectly content to enjoy any indoor activity the place has to offer. My husband insists he and I will, at the very least, snow tube ("all you have to do is park your butt in the tube and go, Kath," he says). I'm not an outdoorsy type, but for those who are Justin Case (asi/63698) offers item SW2355; a winter outdoor kit with 19 pieces, made of 420-denier nylon in a zippered case. Among other things, it holds an emergency blanket, hand warmer, tea light candle, safety matches and lip balm. Pricing starts at: 25; $9.64-R. Great idea for skiers, campers, hunters, lodges, equipment dealers and more. Click here: http://justincasepromo.com/.
The Bottom Line: Gotcha covered.
Tiny Bubbles
The Pitch: Here's my educational tidbit for today: It's Bubble Wrap Appreciation Day! Americans can really think of any reason to celebrate, can't we? Bottom line: Bubble wrap is fun and Colorstrike/Liquid Tech (asi/45820) offers an 8-inch round, translucent bubble wrap-filled mouse pad. This is great for any techie promotions. Pricing starts at: 250; $9.50-R. See item PCP-100BW here: http://www.colorstrike.com/
The Bottom Line: Make it pop.
Ladies Who Lunch
The Pitch: I mostly eat lunch at my desk these days, but psychologists say that's actually counterproductive. "From a productivity standpoint, there are diminishing marginal returns when you ask your brain to exert constant effort through an eight-hour day," says one. Some might argue that I rarely ask my brain to exert constant effort, but perhaps I should start taking my lunch tote to the ASI Café for a half hour just so I don't go cuckoo. Well, ladies, have I found the cutest lunch tote for you! It's item KI-10314-14 from J J I International (asi/62999). It's a sage/lilac insulated microfiber lunch tote with a sequined flower on the front. It's a little pricier at one for $15-P, but you get what you pay for and this would be an adorable addition to any company store. Click here: http://www.jjiinternational.com/.
The Bottom Line: Carried away with style.
Water, Water Everywhere
The Pitch: But can you drink it? I just reviewed a list of the 10 cities with the worst drinking water (CA and FL, you didn't fare so well). You can read it for yourself here: http://www.dailyfinance.com/. There are no worries with fresh bottled water from Nature's Purest Spring Water (asi/73502). The supplier sells the water from springs in the Blue Ridge Mountains in eco-friendly biodegradable "bottles for a healthier Earth." A 12-oz. bottle starts at: 240; $1.01-T. See their offerings and read all about them here: http://www.naturespurestsprings.com/.
The Bottom Line: A healthy alternative.

PRODUCT SPOTLIGHT
NEW! USB Sticks from AZX Sport ASI/30250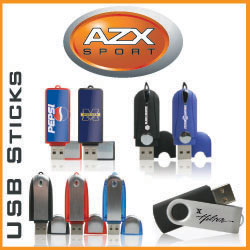 Features: 512MB - 16GB memory size available. Large variety of
colors and shapes. Ability to pre-load files onto USB.

Construction: Full color domed, Laser engraved
and pad printing available.

Lead Time: 1-3 business days on stock USB. 10 business days on
non stock USB. Minimum order 25pcs.

Orders and Art: Info.Advantages@aztex.com

Quote Requests: Info.Advantages@aztex.com

Visit www.azxpromotions.com to see our full line of products.

Or call 1-800-558-4836
CALL FOR QUOTE!
For other new and creative products, visit the Product Central section on ASICentral.com.