ADVERTISEMENT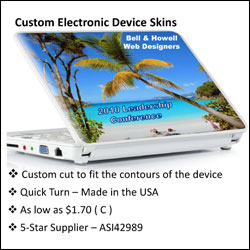 Bright Ideas
The Pitch: Simplex Consulting Inc. (asi/87343) has combined two themes in one, with their 9-LED flashlight with a top that looks like a golf ball. Item FL-06 Golf would be great in tournament gift bags, but also great for anyone who could use a flashlight (think about your auto-dealer clients too). Three AAA batteries and a velvet pouch are included. Pricing starts at: 30; $9-R. See it here: http://www.simplexpromo.com/.
The Bottom Line: Hole in one (I know, cliché, but it truly is).
Do the Jerk
The Pitch: Every week, Joe Haley (you know him from The Joe Show) and I name our, let's just say (so I don't offend) "Jerk" of the Week. This week mine is Jesse James, who announced his engagement to Kat Von D, claiming he fell in love with his best friend. Wasn't Sandra his best friend last year? Well, I hope they live happily and ridiculously tattooed ever after. Here's a jerk of the good kind from Captain Food Inc. (asi/43805) offers a variety of delicious jerk rubs and spices. Pricing starts at: 96; $5-P. Plus, ask about their custom artwork set-up special. Click here: http://43805.asisupplier.com/.
The Bottom Line: Rub it in.
The Highlight of My Day
The Pitch: I couldn't live without my highlighters. I'm not kidding, I couldn't. OK, maybe if I was on a desert island (I'd rather be on a dessert island), but in my office here at ASI, absolutely not. Crown Products (asi/47700) has a great set of three highlighters, in pink, green and yellow with black clips and they all fit into a nice silver case for your desk. This is perfect for schools, offices and homes ... everywhere and everyone! Pricing starts at: 125; $3.29-P. See item DSKHIGH here: http://www.crownprod.com/?p=viewitem&itemno=DSKHIGH.
The Bottom Line: It stands out.
Your Days Are Numbered
The Pitch: Last night, I had to actually go out and buy myself a calendar for our fridge at Rite-Aid for $4.99. Yes, I held off until the end of January waiting for someone to give me a free one! Usually, I at least get one from the church and one from the Avon Lady by now. What gives? Please, do encourage your clients and let them know that Kathy says calendars really do get a lot of great exposure and awesome real estate on the fridges of homes everywhere! JP Graphics Inc. (asi/63058) offers very nice wall calendars with various themes. Plus, they are giving you the ability to offer your clients QR codes. Not sure what they are? Go here: http://www.justprintonline.com/hiflex/index.php. or here: http://yourqrsite.com/ for much more information.
The Bottom Line: The secret code.