| | |
| --- | --- |
| Keeping you in the loop on products and deals you may not have heard about.    | January 19, 2011 |
SPONSORED BY


Hello, friends. I'm back in action after I took the day off yesterday. We had no power at home (ice storm, tree falls on power line, you get it). Anyway, imagine the fright I'd give my delightful coworkers, had I come to work without the ability to blow dry my hair or see my makeup mirror? No worries, I've got plenty of energy today! Enjoy this edition and send your feedback directly to: khuston@asicentral.com. It may be published in a future issue of Advantages magazine. For free information on products featured in Advantages, click here: www.advantagesinfo.com.

PRODUCT SPOTLIGHT


– Kathy Huston, editor 


The Joe Show:
Products Aplenty 

In this episode of The Joe Show, Counselor Managing Editor Joe Haley shows off some unique items that suppliers have recently introduced to the market. Looking to target the pet or golf tournament sectors? Need some ideas for sales incentive items? Check out this edition of The Joe Show.  

Click here to see this product-preview episode of The Joe Show.

Want more videos? Subscribe now to our YouTube videos.

Scented Solutions
The Pitch: If you ever come to visit our home (please do when you're in the neighborhood! I'll make you a nice dinner...or reservations), you will notice I can't seem to get enough candles. I just love them! And imagine my delight when I found a candle in a 10-oz. Irish coffee mug (my name is Kathleen after all and St. Patty's Day is coming up). It's from AromaZone (asi/36863), and you can see their offerings and the scents available at: http://www.aromashoppecandles.net/. For specific information about pricing, etc. for item 10IRS-NC, email: taromazone@aol.com.
The Bottom Line: No blarney, just business.

ADVERTISEMENT

Anatomy Lesson
The Pitch: My mom, a retired nurse, always used to say, "Your phalanges are showing." She's a funny one, that Genevieve. It's simply the medical term for finger and toe bones. Anatomy Products (asi/36009) has got you covered with all kinds of models of bones, organs, etc. I am particularly fond of the life-size skeleton model made of washable and unbreakable PVC plastic. It is ideal for teaching the basics of human anatomy (think nursing and medical schools), for your healthcare clients, or if you want to have a little fun, put one in your office desk chair to scare your coworkers. (See? I'm always thinking.) The arms and the legs are removable for study too and it features nerves branches, vertibral artery and hernial lumbar disc. OK, I'm getting way too technical. For more info, go here: http://36009.asisupplier.com/. Or you can email: anatomyproducts@aol.com.
The Bottom Line: Bone up.
| | |
| --- | --- |
| ADVERTISEMENT | ADVERTISEMENT |
Sweet Talker
The Pitch: If you're wondering how to make me a loyal client, it's very simple. Send me a chocolate bar (I'm easy). Look no further than Bizgrams (asi/42015). They've got custom-printed, wrapped Hershey's bars. They are available in 1.55-ounce kosher milk, dark or almond bars. These are just perfect for special events, school fundraisers, notes of thanks or congratulations and much more. Pricing starts at: 100; $1.81-T. Click here: http://www.bizgrams.com/.
The Bottom Line: Cash in with chocolate.
Open Up
The Pitch: We're all aware that dog tags are big in the promo products industry, but here's a new, fun twist from FluppyPuppy.com (asi/54883). It's a photo-etched dog tag with a middle slot bottle opener with a key ring. Pricing starts at: 500; $1.26-U. Think about this for your beverage and restaurant-related clients. It will be a big hit. Email: jim@fluppypuppy.com.
The Bottom Line: To the dogs.
PRODUCT SPOTLIGHT
NEW! USB Sticks from AZX Sport ASI/30250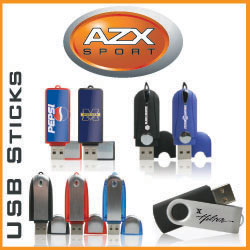 Features: 512MB - 16GB memory size available. Large variety of
colors and shapes. Ability to pre-load files onto USB.

Construction: Full color domed, Laser engraved
and pad printing available.

Lead Time: 1-3 business days on stock USB. 10 business days on
non stock USB. Minimum order 25pcs.

Orders and Art: Info.Advantages@aztex.com

Quote Requests: Info.Advantages@aztex.com

Visit www.azxpromotions.com to see our full line of products.

Or call 1-800-558-4836
CALL FOR QUOTE!
For other new and creative products, visit the Product Central section on ASICentral.com.
Advantages is bringing over 60 top suppliers to a city near you. 
Come to the industry's largest and most popular traveling show, the ASI Advantages Roadshow. For a list of cities and dates, visit http://advantagesroadshow.com/. Admission is free for all distributors and salespeople! 
SPONSORED BY


Advantages™ Hot Deals is a trademark of the Advertising Specialty Institute. You were sent this newsletter as a benefit of your ASI membership. Copyright 2011, ASI. All Rights Reserved. 
If you'd like us to send Advantages Hot Deals FREE to anyone else at your company (or to your off-site sales reps), go to www.asicentral.com/newsletters and complete the online form.
Interested in advertising in Advantages Hot Deals? Send an email to ekoehler@asicentral.com
Click here to subscribe to Advantages™ magazine. 
Advertising Specialty Institute®, 4800 Street Road, Trevose, PA 19053