Advantages™ Hot Deals Newsletter
Volume 364 / January 17, 2011 
Keeping you in the loop on products and deals you may not have heard about.
SPONSORED BY




Howdy. How's it goin'? How 'bout those J-E-T-S, Jets, Jets, Jets? Perhaps Tom Brady's new longer hair weighed him down? (Sorry, ladies, I know you love him.) Let's lighten things up here. Enjoy this edition and send your feedback directly to:  khuston@asicentral.com. It may be published in a future issue of Advantages magazine. For free information on products featured in Advantages, click here: www.advantagesinfo.com.

PRODUCT SPOTLIGHT


– Kathy Huston, editor 
Service Award
The Pitch: You may be reading this at home if you're off today (I'm not; Hot Deals never sleeps). It's Martin Luther King Day, also known as a day of service. Truth is, there are dedicated people out there volunteering every day and Classic Medallics Inc. (asi/45330) has a one-inch, clutch back lapel pin that reads, "In Honor of Outstanding Volunteer Work." Think of this for schools, hospitals and any nonprofit organization. Pricing starts at: one; $3.15-M. See item BR568 here: http://store.classic-medallics.com/.
The Bottom Line: Give thanks.



Happy Talk


The Pitch: According to psychologists, this very day is the most depressing day of the year. Yippee! Aren't you glad I brought you down? Don't worry. You know I wouldn't leave my buddies feeling blue for too long. Ariel Premium Supply (asi/36730) offers the

Talking Smile Guy stress reliever.

He says things like, "Smile Guy here;" "Stay positive;" "Don't stress;" and "Have a super smiley day!" How could you not like this guy? He's great for any office or college dorm. Pricing starts at:

150; $3.22-R

. Click here: http://www4.arielpremium.com/.
The Bottom Line: No worries.

Water Works
The Pitch: I heard this on the morning news: There have been 86 pregnant teens at one Memphis high school in one year! Seriously? Is it something in the water? It probably pays for everyone to carry their own and Leed's (asi/66887) offers item 1622-49, a water-filtration BPA-free sport bottle. Made from Tritan Copolyester, this bottle has a patented filter and freezer stick system which reduces chlorine taste and other impurities. Plus, it can filter up to 150 gallons of water before being replaced. Pricing starts at: 36; $16.54-P. Click here: http://www.leedsworld.com/.
The Bottom Line: Filter it out.

Sweet Thoughts
The Pitch: Oh, I really like this. I've presented these chocolate lip balms before, but now you can get boxed chocolate truffles packaged in a set with two hand-crafted chocolate lip balms made from real cocoa and natural flavors from Custom HBC (asi/47934). This set would make the perfect Valentine gift. Pricing on item KIT80051 starts at: 25; 12.99-R. Email: info@customhbc.com.
The Bottom Line: Lip-smacking sales.
PRODUCT SPOTLIGHT
Lithos Pocket Calculator from Meximi ASI/70899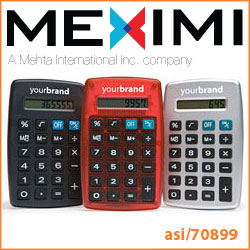 Comfortable in the hand and pocket, this ergonomic calculator features soft rubber keys, rounded edges and a clear display. Available in black, silver, trans. blue and trans. red.


Pad print. Generous imprint area: 1.8 x .4"

3-5 bus. day production. 50 pc min.
Info.Promogram@365wholesale.com

Visit www.365wholesale.com to see our full line.
CALL FOR QUOTE: 1-877.834.4389

For other new and creative products, visit the Product Central section on ASICentral.com.
Advantages is bringing over 60 top suppliers to a city near you.
Come to the industry's largest and most popular traveling show, the ASI Advantages Roadshow. For a list of cities and dates, visit http://advantagesroadshow.com/. Admission is free for all distributors and salespeople! 
SPONSORED BY


Advantages™ Hot Deals is a trademark of the Advertising Specialty Institute. You were sent this newsletter as a benefit of your ASI membership. Copyright 2011, ASI. All Rights Reserved. 
If you'd like us to send Advantages Hot Deals FREE to anyone else at your company (or to your off-site sales reps), go to www.asicentral.com/newsletters and complete the online form.
Interested in advertising in Advantages Hot Deals? Send an email to ekoehler@asicentral.com
Click here to subscribe to Advantages™ magazine. 
Advertising Specialty Institute®, 4800 Street Road, Trevose, PA 19053