Advantages™ Hot Deals Newsletter
Volume 362 / January 10, 2011 
Keeping you in the loop on products and deals you may not have heard about.
SPONSORED BY


Boy, did I have some weird rambling dream before I woke up this morning. It involved lots of things, both scary and not, and all of it was bizarre. One of the milder moments was my publisher asking me to rewrite my editor's letter for the magazine and make it about Mr. Rogers. So let's get this beautiful day in the neighborhood started. Enjoy this edition and send your feedback directly to: khuston@asicentral.com. It may be published in a future issue of Advantages magazine. For free information on products featured in Advantages, click here: www.advantagesinfo.com.

PRODUCT SPOTLIGHT


– Kathy Huston, editor 


The Joe Show:
Double The Fun

The Joe Show: Double The Fun
Starting this week, Counselor Managing Editor Joe Haley will be offering two episodes per week of The Joe Show. More products, more fun. In this edition, he highlights some items that are sure to spark new promotional ideas. Looking for product inspiration to begin 2011? Check out this edition of The Joe Show.  

Click here to see this new-products episode of The Joe Show.

Want more videos? Subscribe now to our YouTube videos.

Batter Up
The Pitch: I'd like to move onto baseball now that the Eagles are out of the playoffs (but good effort I thought right up until the very last seconds). So, here's to the Phillies (I know; I'm so fickle). Cinch2Win (asi/45146) has a great drawstring cinch bag shaped like a baseball, which is a great idea for fan giveaways and youth teams alike. They've got other sports themes available too. Pricing starts at: 24; $5.55-P. Click here: http://www.cinch2win.com/.
The Bottom Line: The MVP in your baseball promos.

Snowed In
The Pitch: Seems I have been writing about snow a lot, doesn't it? Well, another storm has hit or will hit, depending on where you live. Don't you wish you'd sent out those self-promotional ice scrapers? It's not too late; there's still plenty of winter left. I like the four-inch ice scraper from E-Z Lettering Service (asi/51208), because it has an attached fleece-lined, waterproof mitt to keep your hand warm. Pricing starts at: one; $9.90-P. Click here: http://www.ezlettering.com/.
The Bottom Line: Ice off.

ADVERTISEMENT


Keep On Truckin'
The Pitch: Clients in the transportation market looking for something unique? Netguru (asi/73571) has a plastic, truck-shaped USB drive that might fit the bill. It's MAC- and PC-compatible and available in different capacities. You can check out their website: www.usmodular.com. Call the supplier for current pricing and other information: 714-678-0173.
The Bottom Line: Movin' on.
All the Right Tools
The Pitch: You never know when you're going to need a ratchet set, am I right ladies? Binaco (asi/40544) offers a great new tool set that's just right for home-related promotions. Item TK576 is a 26-piece, fully-equipped tool kit all in a carry case. Pricing starts at: 100; $7.75-R. You can check it out here: http://www.binaline.com/.
The Bottom Line: Drill-bit biz.
PRODUCT SPOTLIGHT
Traveler, All in One Travel Aide from Meximi ASI/70899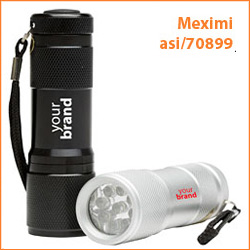 Traveler, All in One Travel Aide
A world clock, travel alarm, 3 LED flashlight and thermometer in one – with a convenient wrist strap. Just twist the dial to change time zones. Uses 2 convenient AAA batteries.
Pad print.

3-5 bus. day production. 50 pc min.
Info.Promogram@365wholesale.com

Visit www.365wholesale.com to see our full line.
CALL FOR QUOTE: 1-877.834.4389

For other new and creative products, visit the Product Central section on ASICentral.com.



Advantages is bringing over 60 top suppliers to a city near you.
Come to the industry's largest and most popular traveling show, the ASI Advantages Roadshow. For a list of cities and dates, visit http://advantagesroadshow.com/. Admission is free for all distributors and salespeople! 
SPONSORED BY


Advantages™ Hot Deals is a trademark of the Advertising Specialty Institute. You were sent this newsletter as a benefit of your ASI membership. Copyright 2011, ASI. All Rights Reserved. 
If you'd like us to send Advantages Hot Deals FREE to anyone else at your company (or to your off-site sales reps), go to www.asicentral.com/newsletters and complete the online form.
Interested in advertising in Advantages Hot Deals? Send an email to ekoehler@asicentral.com
Click here to subscribe to Advantages™ magazine. 
Advertising Specialty Institute®, 4800 Street Road, Trevose, PA 19053