Fruitful Find
The Pitch: Sitting in traffic behind a "wide load" today made me think about diet plans (go figure). Here are fun new products from Createplus LLC (asi/47650) that would be perfect for diet centers, health-care clients, gyms and schools. Their 3D fruit-shaped scratch pad series come in these shapes: apple (red and green), pear, peach, orange, watermelon, pomegranate and more. Come to think of it, these are great for any office too. Pricing starts at: 3000; $1.07-T. For more info email: info@createpluspromo.com.
The Bottom Line: Healthy notes.
ADVERTISEMENT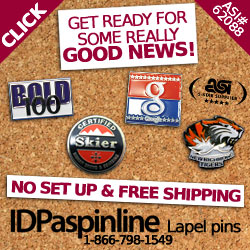 Hit the High Notes
The Pitch: I happened upon opera on my car radio this morning and although I can't say I'm a lover of the genre, I was compelled to listen for a bit. As a side note, I just read that my alma mater, Rutgers University, will actually be opening an Opera Institute in the fall (in case you're interested). I guess opera is more popular than I thought. Essef Distributors Inc. (asi/52710) has a high-end pair of opera glasses for just 25; $25.50-R. The binoculars have a classic metal body in black and gold and include a woven neck strap. They come in a black drawstring pouch and gift box. Click here: http://www.thelincolnline.com/.
The Bottom Line: Get a close-up.
Creative Spark
The Pitch: I have a lot of observations from my drive in earlier, don't I? Here's another one. The car that pulled into the parking lot in front of me was an FX35 and the driver's license plate said "My FX35." Hmmm…where's the creativity? (I'm sorry if it was you, dear co-worker, whoever you are.) Anyone in need of a creativity booster would surely appreciate the 96-page linen hardcover book Simple Simon on Creativity, Modern Fables for Business and Life, by Greg Godek, "because everyone has the potential to be mildly brilliant," says supplier The Promotional Bookstore (asi/79369). It includes 10 stand-alone chapters and then some sort of "Ah-Ha" moment that the supplier says will surprise the reader. They can't get this in bookstores, so it would make a very unique gift for sure. Pricing starts at: 48; $24.95-R. For more information, email: sales@promobookstore.com.
The Bottom Line: Read all about it!
Light the Candles
The Pitch: It's another big birthday day in our family: It's both my niece Megan's 18th and my father-in-law Gerry's 81st! Gifted Expressions LLC (asi/56777) has an awesomely appropriate birthday package just for such festive occasions. Item F09054 is a decorative paper gift bag, filled with Ghirardelli chocolate squares, birthday-themed fortune cookies, caramel corn crunch, cinnamon apple crisps and a microwave birthday cake complete with balloons, party horn and candle. Think about sending these to your loyal clients on their birthdays too. Pricing starts at: 12; $46.95-R and you can see it here: http://www.giftedexpressions.com/.
The Bottom Line: Celebration seller.