Advantages™ Hot Deals Newsletter
Volume 360 / January 3, 2011 
Keeping you in the loop on products and deals you may not have heard about.
SPONSORED BY


Happy 2011 everyone! Did you have a fun first weekend? Did you make a resolution? Mine is to be nicer. Don't let my husband fool you; I really will try. Tell me yours. Enjoy this edition and send your feedback directly to:  khuston@asicentral.com. It may be published in a future issue of Advantages magazine. For free information on products featured in Advantages, click here: www.advantagesinfo.com.

PRODUCT SPOTLIGHT


– Kathy Huston, editor 




Vanilla Spice
The Pitch: Ah, the struggle of the ages: No, not good vs. evil; I'm talkin' vanilla vs. chocolate. Turns out, according to super-duper, high-level studies, vanilla is the preferred home scent. Ganz USA LLC (asi/55776) has great new vanilla bean-scented candles with a crackling wick. Gotta love those crackling wicks. It's like having your own little personal fireplace. Pitch this to your Realtor clients to give to new homeowners to cozy things up. Pricing for a 10-oz. candle in glass jar starts at: one for $18-P. Email dking@ganz.com.
The Bottom Line: Wick it.

Dance Troupe
The Pitch: According to The Washington Post, zombies are out and ballerinas are in; I guess they are making the zombie-ballerina, which-is-scarier connection, given the success of Black Swan. This ballerina-shaped keytag from Mocap Inc. (asi/71870) is not one bit frightening and it's perfect for dance schools. Item 20,510L starts at: 250; 0.89-P. Check it out: http://www.anchorlineproducts.com/.
The Bottom Line: Raise the barre.

Save Up
The Pitch: Hey, Brett Favre is retiring! (Where have I heard that before?) RFG Line (asi/82283) offers a saving for retirement and investing/401K pocket slider. It fits in #10 envelope and is just the right product for your financial clients and it's also a good idea for companies to give their employees. Pricing on item CB654 starts at: 250; 0.74-R. Email: sales@rfgline.com.
The Bottom Line: Calculated move.

ADVERTISEMENT


Bean There, Done That
The Pitch: Love Rocks Inc. (asi/68029) now has an addition to their line of imprinted rocks: Printed Sea Beans are printed with your choice of word phrase, slogans, or logos.The eco-friendly seeds originate in South America and Africa. These are a unique idea for any special event. Pricing starts at: 250; $1.95-R. Click here: http://www.loverocksincpromo.com/.
The Bottom Line: Sea it, believe it.
PRODUCT SPOTLIGHT
Traveler, All in One Travel Aide from Meximi ASI/70899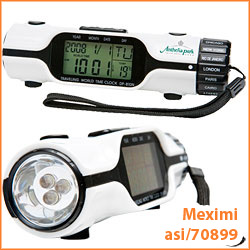 A world clock, travel alarm, 3 LED flashlight and thermometer in one – with a convenient wrist strap. Just twist the dial to change time zones. Uses 2 convenient AAA batteries.
Pad print.


3-5 bus. day production. 50 pc min.
Info.Promogram@365wholesale.com

Visit www.365wholesale.com to see our full line.
CALL FOR QUOTE: 1-877.834.4389

For other new and creative products, visit the Product Central section on ASICentral.com.



Advantages is bringing over 60 top suppliers to a city near you.
Come to the industry's largest and most popular traveling show, the ASI Advantages Roadshow. For a list of cities and dates, visit http://advantagesroadshow.com/. Admission is free for all distributors and salespeople! 
SPONSORED BY


Advantages™ Hot Deals is a trademark of the Advertising Specialty Institute. You were sent this newsletter as a benefit of your ASI membership. Copyright 2011, ASI. All Rights Reserved. 
If you'd like us to send Advantages Hot Deals FREE to anyone else at your company (or to your off-site sales reps), go to www.asicentral.com/newsletters and complete the online form.
Interested in advertising in Advantages Hot Deals? Send an email to ekoehler@asicentral.com
Click here to subscribe to Advantages™ magazine. 
Advertising Specialty Institute®, 4800 Street Road, Trevose, PA 19053