SPONSORED BY


Hi, all. I was back in my happy place last night watching the two-hour debut of the 9th season of American Idol (I know those of you who are also fans will be emailing back and forth again about our insights for the next few months). I hope this edition puts you in a happy place too. Enjoy and send your feedback directly to: khuston@asicentral.com. It may be published in a future issue of Advantages magazine. For free information on products featured in Advantages, click here: www.advantagesinfo.com.
– Kathy Huston, editor 

ADVERTISEMENT


Sweet 16
The Pitch: My son, Andrew, who will be 16 himself next week, and will promptly be asking to get his driving permit, I'm sure (God help me), has been attending Sweet 16 parties on a regular basis. One item that seems to be popular at these affairs is the silicone bracelet, imprinted with "Christina's Sweet 16," and the like. Marathon Mfg./Prestige Lines (asi/68707) offers debossed silicone wristbands that are coveted by boys and girls alike and are perfect for any special event. Pricing starts at: 500; $1.20-R. Click here: http://www.marathonmfg.com/.
The Bottom Line: All in the wrist.

Spaced Out
The Pitch: Apparently, a mysterious object passed by this very planet this morning (I thought I heard something). Even NASA scientists didn't know what it was and guessed that it could have been "space junk." One thing's for sure though: Freeze-dried foods from Luvy Duvy Corporation (asi/68192) are used by the astronauts in outer space and they are far from junk. They've got ice cream; they've got cookies and they've got bite-sized strawberries all packed up and ready to eat. These are a great idea for trade shows and conventions, and would be really fun for kid-related promos too. The strawberry packs start at: 100; $2.90-R. See them at: http://www.luvyduvy.com/.
The Bottom Line: Cold cash.

ADVERTISEMENT

ADVERTISEMENT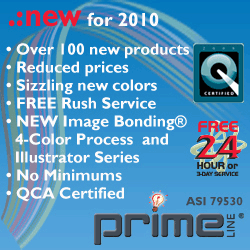 Sweet Charity
The Pitch: It's really a shame, but it seems that after the Christmas lights come down, charity and volunteerism dim as well. Nonprofits need your help all year round to spread awareness for their causes. My buddy Pat Fisher, President of Hartleigh Creations (asi/60104), is sure she can help you. Unfortunately, Pat suffered a major concussion last year, but this year, she's recovered and invites everyone to the ASI Show in Dallas for great samples, info on Hartleigh's nonprofit program and new products, such as the can grip. It's an ergonomic handle that attaches to 12-oz.cans, keeping your hands warm. It's been a past winner at the Advantages New Products Pavilion at the ASI Shows. Plus, you can get EQP on orders of 250 or more. These are a unique idea for fundraisers, sporting events, corporate picnics and much more. Be sure to look up Pat's booth when you get to Dallas. For more information, email: info@hartleigh.com.
The Bottom Line: Get a handle on things. 
March of the Penguins
The Pitch: Let's face it; you can't get much cuter than penguins. What other animal looks like it's wearing a tiny tux? Alpi International Ltd. (asi/34415) has an adorable desk accessory that's both paperweight and stress-reliever. When tipped from side to side, the floating penguin inserts surf the wave. Pricing starts at: 150; $5.65-P. See these guys here: http://34415.asisupplier.com.
The Bottom Line: A day at the beach.
ADVERTISEMENT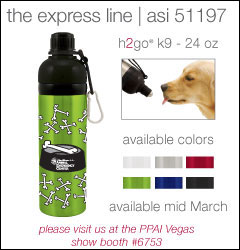 Baby Them
The Pitch: Americans are getting busy. More than 4 million babies are born in the U.S. each year, so chances are you're going to be looking for a baby-related product at some point. Built NY (asi/42422) offers Comfy Bibs for only the most stylish of tykes, in designs like Soho Stripe, and they start at: 12; $7.33-R. Just right for daycare centers; maternity wards; baby food manufacturers and pediatricians' offices. For more information, email: dfrank@builtny.com.
The Bottom Line: Clean-up crew.

From Team ASICentral: What's Your Sales Sign?
If you're having trouble making sales these days, maybe it's not the tough economy but an inability to take advantage of your astrological strong points. That's right! Tauruses, you're dependable and persistent, but can be stubborn. Aries, you're an independent go-getter, but impatient.
Find out what traits under your Zodiac sign make you a great salesperson with our neat interactive "Zodiac Sales" feature in this month's Advantagesmag.com. It's in the stars! Check it out now: http://asicentral.com/asp/open/news/advantages/zodiac.aspx

Got questions, comments or any type of feedback regarding anything ASICentral, don't hesitate to contact us at feedback@asicentral.com.
Advantages is bringing over 60 top suppliers to a city near you. 
Come to the industry's largest and most popular traveling show, the ASI Advantages Roadshow. For a list of cities and dates, visit http://advantagesroadshow.com/. Admission is free for all distributors and salespeople! 
SPONSORED BY


Advantages™ Hot Deals is a trademark of the Advertising Specialty Institute. You were sent this newsletter as a benefit of your ASI membership. Copyright 2010, ASI. All Rights Reserved. 
If you'd like us to send Advantages Hot Deals FREE to anyone else at your company (or to your off-site sales reps), go to www.asicentral.com/newsletters and complete the online form.
Interested in advertising in Advantages Hot Deals? Send an email to ddienna@asicentral.com
Click here to subscribe to Advantages™ magazine. 
Advertising Specialty Institute®, 4800 Street Road, Trevose, PA 19053