Happy New Year! Auld acquaintances may have been forgotten, but I would never forget you. It's been an eventful year already: Since January 1, 2010, my father-in-law turned 80 and got his knee replaced and my niece turned 17 and got her driver's license. (If you are in the area of Cranford, NJ, please be careful on the streets.) How's your year been so far? Did you make any good



Sales Tip of the Week
resolutions? Send me an e-mail! But before you do, read this edition and send your feedback directly to: khuston@asicentral.com. It may be published in a future issue of Advantages magazine. For free information on products featured in Advantages, click here: www.advantagesinfo.com.

– Kathy Huston, editor 

The Joe Show from Orlando
In this episode of The Joe Show, from The ASI Show in Orlando, Counselor Managing Editor Joe Haley shows off some items that caught his eye on the exhibit floor. Click here to watch.




Oh, Stop It
The Pitch: Probably the number-one resolution heard across the land at midnight last Friday was: I vow to lose weight and fit into my skinny jeans! Chulani Promotional Products Inc. (asi/45100) has the product that's right for any fitness program. Item #909 is a digital stop watch on a lanyard. It's new and it's also available at EQP until 1/31, so don't hesitate. Mention promo code: EQESJAN10. Click here: http://www.chulani.com/products/909.htm.
The Bottom Line: Keep one hanging around.

ADVERTISEMENT

ADVERTISEMENT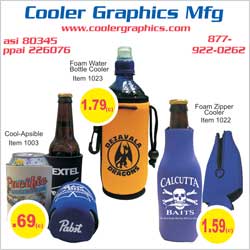 Short and Sassy
The Pitch: With all the craziness going on in airports these days, wouldn't it be nice to have something that makes you smile? Evans Manufacturing (asi/52840) offers cute, new luggage tags imprinted with sassy sayings, including: "I come with baggage," "What happens on the road stays on the road," and "OMG! Stop grabbing me!" These are a fun idea for travel programs, incentive trips, tourism boards and more. Pricing starts at: 150; .95-R. Check them out: http://www.evans-mfg.com/product.php?id=463.
The Bottom Line: Get where you're going.
Brrrrrr!
The Pitch: Lately, when I get out of bed in the morning and before I turn the heat up, I say to Steve (with dramatic flair), "It's like the tundra in here!" In case you haven't noticed, there's some sort of arctic air blowing across the country; even the Florida oranges are freezing (I have been watching The Weather Channel ever since we had a blizzard a couple of weeks ago). Help keep the people warm with new sweatshirt blankets from Logomark Inc. (asi/67866). These are also great for college bookstores, as they're just right for cozying up a dorm room. Think about school and athletic fundraisers too. Pricing starts at: 25; $22.95-R. See them at: http://www.logomark.com/ShowProductDetail.asp?ProductID=4705.
The Bottom Line: Under the covers.
Gimme a Slice
The Pitch: Something good is coming out of the frigid temps: Pizza deliveries are up! Speed Promotional Inc. (asi/88686) has a truly adorable pizza cutter that would be perfect as a Valentine's promotion for pizza shops. Item CJW2589 is a pizza cutter that says "A slice of love" above a red heart. Plus, it's presented in a mini pizza box with a ribbon and matching tag that says "Hot & fresh for you." I can hear you saying "aww" right now. Pricing starts at: 5000; $2.01-W. See it here: http://www.speedpromo25.com/products_details.aspx?pid=18320.
The Bottom Line: Serve it up.
In Hot Water
The Pitch: I've been getting into green tea lately. OK, I admit I only drank one cup since I bought a box of it a month ago, but I've been meaning to drink more (I always have good intentions). The health benefits of green tea are well-known, not to mention, it's supposed to reduce belly fat (but you have to drink a lot more than a cup a month). Richard's Gourmet Coffee Co. (asi/82351) has a premium green tea bag sampler in a gold foil package that would fit well in any health-themed promotion. These would make a nice giveaway at medical conventions, spas and even B & B's … the possibilities are endless. Pricing starts at: 144; $2.05-Q. Web address: http://www.richardsgourmet.com/tea.htm.
The Bottom Line: Go green.

Advantages is bringing over 60 top suppliers to a city near you. 
Come to the industry's largest and most popular traveling show, the ASI Advantages Roadshow. For a list of cities and dates, visit http://advantagesroadshow.com/. Admission is free for all distributors and salespeople! 
Advantages™ Hot Deals is a trademark of the Advertising Specialty Institute. You were sent this newsletter as a benefit of your ASI membership. Copyright 2010, ASI. All Rights Reserved. 
If you'd like us to send Advantages Hot Deals FREE to anyone else at your company (or to your off-site sales reps), go to www.asicentral.com/newsletters and complete the online form.
Interested in advertising in Advantages Hot Deals? Send an email to ddienna@asicentral.com
Click here to subscribe to Advantages™ magazine. 
Advertising Specialty Institute®, 4800 Street Road, Trevose, PA 19053