SPONSORED BY


YAY! It finally happened … the snow day my youngest son has been waiting for since September! Too bad he has a ruptured eardrum to go with it … I know, OUCH! The doctor actually said, "yowzers!" when she checked inside his ear.  I won't be giving you a video sales tip this week, as I'm working from home to make sure he's on the mend, but I am still bringing you a blizzard of ideas. Enjoy! Send your feedback directly to: khuston@asicentral.com. It may be published in a future issue of Advantages magazine. For free information on products featured in Advantages, click here. 

– Kathy Huston, editor 




ADVERTISEMENT


Here's the Poop
The Pitch: When I tell you that Spector & Co.'s (asi/88660) elephant poo poo paper (made from elephant excrement, as its name suggests) was all the rage at the ASI Show in Orlando, I am not kidding.  The perfect-bound odorless, 100%-recycled paper with hardcover comes in 3 different sizes. I brought some home with me and I like to hand it to people and, while they are holding it, say, "Guess what that's made from?" Reactions are funny!  For pricing and more info, you can check it out for yourself at: www.spectorandco.com.
The Bottom Line: It doesn't stink. 

Roadside Assistance
The Pitch: It was a dark and stormy night … you know, like in I Know What You Did Last Summer, when those careless teenagers ran over that old fisherman who would come back to haunt them and scare the pants off the rest of us?  What they should have had on hand is The Roadside Emergency Flasher from KTI PROMO (asi/63776). In fact, every vehicle should have one and it would be just perfect for automotive clients and safety programs. Pricing starts at: Qty.-50; List price- $12.72; price code- R. You can check it out at: http://www.ktipromo.com/productView.aspx?id=231.
The Bottom Line: Take a road trip. 
ADVERTISEMENT

Eight Is Enough
The Pitch:  Have you heard about the recently born set of octuplets? (Yes, human.)  They're gonna need a lot of diapers! And Built NY (asi/42422) has just the thing to cart them to and fro (the diapers, not the babies). Their high-style, unisex diaper bags are lightweight and made from water-resistant nylon and neoprene. Plus, the strap fits conveniently over a stroller. Pricing starts at: Qty.-12; list price-$61.78; price code-R.  You can see them at: http://www.builtny.com/showPage.php?pageID=1640.
The Bottom Line: Fashion-forward find.

ADVERTISEMENT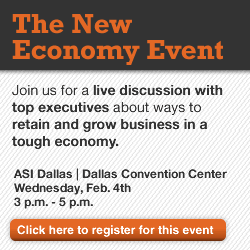 It's Always the Dog
The Pitch:  CareerBuilder.com offered some very amusing real excuses people used to stay home from work, such as "my dog was really stressed out after a family reunion." Great Quotations Inc. (asi/58087) offers even more with their mini perpetual calendar, "The Dog Ate My Car keys and Other Great Excuses" by Sherrie Weaver. It includes timely sayings and funny anecdotes. Pricing for item #776009 starts at: Qty.-100; list price-$6.67; price code-R.  This would be a unique idea for Humane Society locations to give to those who adopt pets or even for employers with a good sense of humor to give their employees.  Web address: www.greatquotationsinc.com.
The Bottom Line: For the hooky rookie.
Hey There, Sweet Stuff
The Pitch:  We're having a company bake-off at ASI in a couple of weeks. I won't be participating, as I couldn't hold a candle to Hillary on our design team, who is our very own Mrs. Fields. However, I am always available for taste-testing sweets of any sort and would surely remember and appreciate anyone who gave me the Good Job cookie cake from Mrs. Fields Original Cookies (asi/71750). Item #4673 starts at one for $34.99 (T). Your corporate clients would eat this up … literally even. Web address: www.mrsfields.com.
The Bottom Line: Cake walk.

Advantages is bringing over 60 top suppliers to a city near you. 
Come to the industry's largest and most popular traveling show, the ASI Advantages Roadshow. For a list of cities and dates, visit http://www.asishow.com/advroadshow/. Admission is free for all distributors and salespeople! 
SPONSORED BY


Advantages™ Hot Deals is a trademark of the Advertising Specialty Institute. You were sent this newsletter as a benefit of your ASI membership. Copyright 2009, ASI. All Rights Reserved. 
If you'd like us to send Advantages Hot Deals FREE to anyone else at your company (or to your off-site sales reps), go to www.asicentral.com/newsletters and complete the online form.
Interested in advertising in Advantages Hot Deals? Send an email to ddienna@asicentral.com
Click here to subscribe to Advantages™ magazine. 
Advertising Specialty Institute®, 4800 Street Road, Trevose, PA 19053