SPONSORED BY


Hello, friends. Last week was weird, wasn't it? I never thought geese could bring down a plane. Nor did I think Cardinals could bring down Eagles


Sales Tip of the Week
(sad face here, with a tiny tear dripping down). Hope this edition lifts you up. Enjoy! Send your feedback directly to: khuston@asicentral.com. It may be published in a future issue of Advantages magazine. For free information on products featured in Advantages, click here. 

– Kathy Huston, editor 




ADVERTISEMENT


Baby Talk
The Pitch: My youngest son, Andrew, will be 15 tomorrow! (I call him "my sweet baby angel." His nickname used to be "demon spawn," but he has greatly improved.) So, the only "child" left in our house is my husband. But parents with little kids around would love to receive the colorful kids' wheeled duffel bag (itemB5015) from Ad Products Bazaar (asi/31522). Think about your day care and summer camp clients; also great as a travel agency giveaway or for family-friendly resorts. Pricing starts at: Qty.-25; list price-$26; price code-R. Web address: www.bazaarline.com.
The Bottom Line: Carry on! 

Green Machine
The Pitch: My name being Kathleen, you can bet your sweet shillelagh that I've seen my share of St. Patty's events. My mom even used to make green mashed potatoes (I know, ewwwww). Alight Promos.com (asi/34194) has just what every March 17th party needs, light-up, flashing shamrock pins (item#10110). Makes the leprechauns even easier to spot. Pricing starts at: Qty.-25; list price-$1.94; price code-R. Web address: www.alightpromos.com.
The Bottom Line: Pin down a sale.
ADVERTISEMENT

ADVERTISEMENT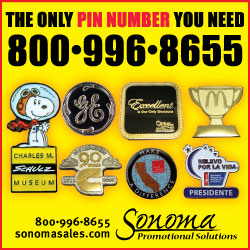 What's in a Name?
The Pitch: Today, I received a funny e-mail from my friend, Joe Haley. It was a cartoon of what school would be like five years from now and all the kids were named Barack, Michelle, or some variation of Obama. My favorite was Obamalama Hicks. The Little Pink Book of Baby Names from The Book Company (asi/41010) would be perfect for expectant parents trying to decide on just the right moniker for their newborns. This is a nice gift for obstetricians to give their patients. Item #1593599250 starts at: Qty.-50; list price-$7.95; price code-R. Web address: www.thebookco.net.
The Bottom Line: It's got their name written all over it.
ADVERTISEMENT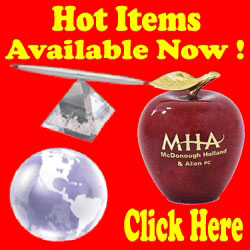 Cool It
The Pitch: Did you hear about the two fishermen who survived shark-infested waters for 25 days by floating in an ice box? That's a cool story ... literally. Here's a cool cooler from Custom Printing II Ltd. (asi/47971): Item ESPWC03 is a 38-quart rolling cooler with wheels and a large white handle. You can also use it as a seat. This is a good idea for employee appreciation, pool and spa shops, golf tournaments, concerts, sporting events and company picnics. Pricing starts at: Qty.-6; list price-$48.50; price code-T. Web address: www.customcrest.com.
The Bottom Line: Tough tote.
ADVERTISEMENT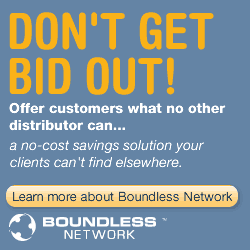 I Heart Next Month
The Pitch: February is American Heart Month and ya gotta love that. Not that I'm doing an infomercial, but I also love ESP and when I did a search for "heart-shaped products," 3,000 of them came up, so there's no shortage of ideas for your Heart-Month or Valentine's promotions. One I like is great for the medical industry, too, especially cardiologists. Item ST002RD from DeVara (asi/49470) is a heart stethoscope ID tag. It has a polydome on one side and a name label on the other and it can be further personalized by hand. Plus, free set ups on all orders and free freight on orders greater than $500 (R) to one domestic, regular ground location. There are over 350 different styles and colors of badge holder. Pricing starts at: Qty.-150; list price-$1.65; price code-R. Web address: www.devara.com.
The Bottom Line: Tag, you're it.
Check It Out At ASICentral.com 
With this month's release of its annual Apparel Sales Survey, Counselor magazine has given the gang at Team Blog some fodder for fun. Play The Family Feud, Promotional Products Edition and test your knowledge of distributor apparel sales now!

Advantages is bringing over 60 top suppliers to a city near you. 
Come to the industry's largest and most popular traveling show, the ASI Advantages Roadshow. For a list of cities and dates, visit http://www.asishow.com/advroadshow/. Admission is free for all distributors and salespeople! 
SPONSORED BY


Advantages™ Hot Deals is a trademark of the Advertising Specialty Institute. You were sent this newsletter as a benefit of your ASI membership. Copyright 2009, ASI. All Rights Reserved. 
If you'd like us to send Advantages Hot Deals FREE to anyone else at your company (or to your off-site sales reps), go to www.asicentral.com/newsletters and complete the online form.
Interested in advertising in Advantages Hot Deals? Send an email to ddienna@asicentral.com
Click here to subscribe to Advantages™ magazine. 
Advertising Specialty Institute®, 4800 Street Road, Trevose, PA 19053