SPONSORED BY


I'm back from the ASI Show in Orlando and embracing the new year with my vow to use my Orbitrek as more than a clothes hanger. I should be bikini-ready by spring (OK, you don't have to laugh so hard). Since we're back in the swim of things, sit back and enjoy this edition. Send your feedback directly to: khuston@asicentral.com. It may be published in a future issue of Advantages magazine. For free information on products featured in Advantages, click here
 

PRODUCT SPOTLIGHT


– Kathy Huston, editor 

ADVERTISEMENT


Dancing Queen
The Pitch: I danced my booty off (if only) at the ASI Show Gala at Universal Studios, and there is videotape to prove it (thanks to my sneaky co-workers, Joe Haley and Joan Chaykin). You won't see it, however, because I have it locked away in a secret vault. If there's anything you'd like to lock away, Advantage Industries (asi/31570) has item AD-546, a stylish aluminum, three-digit combination lock with carabiner. Think about bike shops, school stores and offices as possible markets. Pricing starts at: Qty.-50; list price-$6.85; price code-R. Web address: www.advantageindustries.com.
The Bottom Line: It's a lock.

Historic Proportions
The Pitch: January 20 will be the historic inauguration of our 44th president, Barack Obama. Sanders Mfg. Company (asi/84820) joins in the festivities with free set-up on Obama hand fans, rally signs and inaugural memorabilia such as item # PPB01, bookmarks with his image and words of hope. Pricing starts at: Qty.-100; list price-$1.13; price code-R. Web address: www.samcoline.com.
The Bottom Line: Mark the spot.

ADVERTISEMENT

ADVERTISEMENT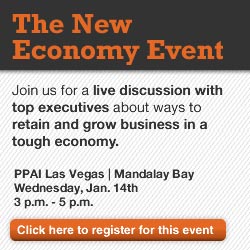 Watch Out
The Pitch: OK, I saw this watch at the ASI Show and even met the inventor, Chris McKay, and I think it's one of the coolest things ever: The iBeam Survival Watch features a patented pop-up magnifying lens, a built-in LED flashlight (which is very bright, let me tell ya), back-lit numbers, a compass and more. This would be great for my dad who always forgets his glasses when he goes out to dinner and my mom has to tell him what he would like. If he had this watch, he could simply pop out the magnifying glass and be good to go. Source 1 (asi/88251) is the exclusive supplier of this product. There are many styles to choose from, but let's go with item W50340, with pricing starting at Qty.-12; list price-$72; price code-S. Check it out at: www.source1golf.com.
The Bottom Line: Magnify your sales.

Couch Potato
The Pitch: American Idol starts next week (the editorial department will be having a field day e-mailing back and forth with our critiques all season long). And there is nothing I like better than curling up on the couch to watch my favorite reality show. Country Line Inc. (asi/46764) offers the perfect accompaniment in its cozy polar fleece television blanket/couch cuddler with foot warmers to boot. It is 60 x 52 inches. Item CL-B-05 comes in all kinds of colors and starts at: Qty.-25; list price-$36.27; price code-Q. Web address: www.countryline.ca.
The Bottom Line: A little cuddle time.

Blow It
The Pitch: Noticing a lot of sniffles and sneezing lately? Yeah, me too. TK Cups-Sorg's (asi/88200) comes to the rescue with item TK22-SP, a white, 32-oz. car cup with 50 2-ply tissues. When the tissues are gone, the cup can be washed and used as a drink cup or coin bank. The supplier suggests the product is great for auto dealership giveaways, car rental agencies, limousine services, funeral homes, car washes and the healthcare industry. I'd like to add day-care centers, because little kids always have snotty noses (moms, you know what I mean). Pricing starts at: Qty.-50; list price-$2.94; price code-R. Web address: www.tkcups-sorgs.com.
The Bottom Line: Tissues to go.

The Advantages Road Show Is Coming!
Do you want to meet with top suppliers, see cool new products up close and personal and get some education right in your own backyard? Of course you do … oh and did I mention that it's free? Plus, no pre-registration is required. For a schedule, go to: www.asishow.com/advroadshow today.

Check It Out On ASICentral.com
Don't adjust your computer screens, ladies and gentlemen. The ASICentral homepage has been updated! You may have already noticed the changes we've made in the past week. The new rotating homepage News area, with its alternating screens, allows us to showcase more of the content ASICentral offers, including magazine content, multi-media and awards. The new left navigation area has added a level of iconography to assist users in finding content through visualization.

So log on and check out some of the new homepage features now!

PRODUCT SPOTLIGHT
Factory Direct Flash Drive USB 2.0 
Exclusively from Corporate Key - asi/63053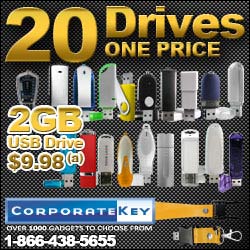 Beautifully designed drives that make great gifts for executives!! Minimum quantity 100 pcs.

FREE 1 Color Imprint / 1- location
FREE Set-up
FREE Data Load
FREE Shipping
Uses any USB 2.0/1.1 port
Password Protection
Fast Data Access Rate
Retains Data for up to 10 years
LED Read/Write Indicator
Optional Accessories
Visit our website to see more great products!
SPONSORED BY


Advantages™ Hot Deals is a trademark of the Advertising Specialty Institute. You were sent this newsletter as a benefit of your ASI membership. Copyright 2009, ASI. All Rights Reserved. 
If you'd like us to send Advantages Hot Deals FREE to anyone else at your company (or to your off-site sales reps), go to www.asicentral.com/newsletters and complete the online form.
Interested in advertising in Advantages Hot Deals? Send an email to ddienna@asicentral.com
Click here to subscribe to Advantages™ magazine. 
Advertising Specialty Institute®, 4800 Street Road, Trevose, PA 19053