The Joe Show: Real Estate Market Spotlight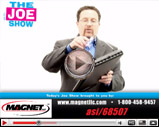 In this episode of The Joe Show, Counselor Managing Editor Joe Haley details why the real estate market is primed for distributors to target. Think the housing downturn has caused this market to shrink from promotional needs? Check out this video to see why you'd be wrong. Plus, check out the ad specialty items that are perfect to suggest to real estate market clients.    

Click here to see this real-estate market episode of The Joe Show.

Want more videos? Subscribe now to our YouTube videos.

Rock the Cradle
The Pitch: And the award goes to … this truly unique award from PersonalizationMall.com (asi/76720). Item #8549 is a jade crystal wine cradle that can be engraved with a company logo and any custom personalization, such as full name, title, specialty, honor, etc. This is a classy way to recognize anniversaries and other special events. Pricing starts at: 50; $69.95-T. See it here: http://www.personalizationmall.com/.
The Bottom Line: It's wine time.

Rainy Day
The Pitch: Right now, it looks like it's going to rain cats and dogs any minute. Don't you think it would be a great idea for schools and fundraisers to give out kids' umbrellas to keep little ones dry at the bus stop? Raintec Umbrella (asi/80491) offers item A108, their new manual-open kids' umbrella with child-proof frame and tips. Pricing starts at: one; $11.92-P. Click here: http://www.raintecumbrella.com/showproduct.aspx/201.
The Bottom Line: For the children.

It's a Hit
The Pitch: Here's a fun idea for team fundraisers, fan appreciation and any employee who hits it out of the park. Item BKTB is from Ball Pro Inc. (asi/38120) and it's a gift kit holding a synthetic baseball, a bag of Cracker Jacks and a miniature baseball bat key chain.Pricing starts at: 100; $13.99-R.See it here: http://www.ballpro.com.
The Bottom Line: Package deal.

Beach Party
The Pitch: I played a hardcore game of Monopoly with my 9-year-old nephew this weekend. And I won. I owned a few high-rent properties. I'm just sayin'. Old-school board games can be fun for all ages. Think of this cool twist on classic board games for upcoming summer and travel promotions. Item 31-020 from T Mak's International (asi/90469) is a 40 x 70" 100%-cotton velveteen terrycloth beach towel with checkers, chess, and tic-tac-toe imprinted on it. It includes 32 pieces for chess and checkers, 8 pieces for tic-tac-toe, and a nylon 70D drawstring tote bag. Pricing starts at: 3000; $25.32-T. Email: sales@2100tmaks.com.
The Bottom Line: Get your game on.