ADVERTISEMENT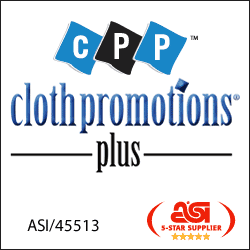 I'm With the Bands
The Pitch: Here's a very cute idea for any number of programs: school stores, health and wellness, employee loyalty and more. Dard Products Inc. (asi/48500) has heart-shaped rubber bands that always keep their shape and they come in a container. Pricing starts at: 100; $2.21-R. Click here: www.tagmaster.net.
The Bottom Line: Stretch it out.
A Fresh Approach
The Pitch: Valentine's Day is the perfect time to remind everyone about the importance of fresh breath. Admints & Zagabor (asi/31516) has a heart-shaped tin featuring magazine-quality printing, filled with sugar-free mints. Think about trade shows, weddings and other special events and anywhere there will be a lot of cuddling (hotels, resorts, B & B's). Pricing starts at: 250; $1.59-R. Click here and search for item HT26; you'll also hear "The Candyman Can": www.admints.com.
The Bottom Line: Worth a mint.
Love is in the Air
The Pitch: The Romance Kit for Two is just right for couples resorts. The cloth basket holds two screen-printed, hemmed 30" x 60" terry towels, a shower brush, loofah towel pad, 4-oz. after-sun lotion, two 1-oz. SPF 25 sunscreens and two lip ices. It's from Ball Pro Inc. (asi/38120) and pricing starts at: 36; $71.99-R. See it here: www.ballpro.com.
The Bottom Line: A perfect pairing.
My Funny Valentine
The Pitch: "Still Together, Still in Love and Still Trying to Figure it All Out" from Great Quotations Inc. (asi/58087) is a perpetual desk calendar. It's filled with timely sayings, funny anecdotes and inspirational advice. This is a fun idea for wedding planners, special anniversary celebrations, vow renewal ceremonies and more. Pricing starts at: 100; $6.67-R. Feel the love here: www.greatquotationsinc.com.
The Bottom Line: It's a date.
PRODUCT SPOTLIGHT
NEW! USB Sticks from AZX Sport ASI/30250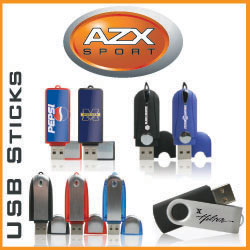 Features: 512MB - 16GB memory size available. Large variety of
colors and shapes. Ability to pre-load files onto USB.

Construction: Full color domed, Laser engraved
and pad printing available.

Lead Time: 1-3 business days on stock USB. 10 business days on
non stock USB. Minimum order 25pcs.

Orders and Art: Info.Advantages@aztex.com

Quote Requests: Info.Advantages@aztex.com

Visit www.azxpromotions.com to see our full line of products.

Or call 1-800-558-4836
CALL FOR QUOTE!
For other new and creative products, visit the Product Central section on ASICentral.com.