Rainy Days
The Pitch: As I mentioned last week, we spent the weekend in the Poconos, so that my younger son Andrew and his buddy Zac could snowboard. It figures that it's been snowing every week and the one day they have to snowboard (Saturday), it pours rain the entire time ... in the Poconos! (The boys didn't care; they had a ball and of course, Steve and I were perfectly content in the lodge watching through the windows with our wine and beer.) This drives home the point that umbrellas are year-round necessities. The Magnet Group (asi/68507) has a great umbrella in a tube/flashlight. The plastic tube with large imprint area is both a carrying case and flashlight handle. Pricing on item MFL19BK starts at: 25; $13.99-R. Click here: http://www.themagnetgroup.com/.
The Bottom Line: In the spotlight.
Doctor, Doctor
The Pitch: There's always a doctor in the house with Aakron Rule Corp's (asi/30270) 5-inch-tall dressed-up citrus scent sanitizer bottle with flip top lid (or a football player, businessman, soccer player and more). Choose from stock designs or create your own outfit. It's pretty darn cute and would work for any number of programs: healthcare, schools, offices, trade shows, etc. Pricing starts at: 100; $1.90-R. See it here: http://www.aakronline.com/.
The Bottom Line: Playing dress-up.
Go Team!
The Pitch: So, what was your favorite part of the Super Bowl? The game, the commercials, the Black-Eyed Peas, Christina Aguilera messing up the lyrics to "The Star-Spangled Banner"? Perhaps this product will be a fan favorite too: a "Go Team" stock tattoo from California Tattoos (asi/43530). Item #1709 starts at: one for 0.91-R. Click here: http://www.caltattoo.com/.
The Bottom Line: A favorite thing.
Refresh Your Pet
The Pitch: Sometimes Fluffy doesn't smell so fluffy, does he? Solar Advertising (asi/88148) has just the thing to keep doggy fur fresher. Item PP-FUR is PurePet citrus vanilla fur freshening mist for use between baths. It can also be used on pet beds to get rid of stinky scents. Pricing starts at: 250; $3.50-R. Click right here and order these up for any pet-related clients: http://www.solaradvertising.com/.
The Bottom Line: Something's in the air.
PRODUCT SPOTLIGHT
NEW! USB Sticks from AZX Sport ASI/30250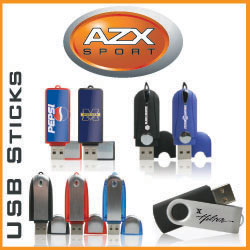 Features: 512MB - 16GB memory size available. Large variety of
colors and shapes. Ability to pre-load files onto USB.

Construction: Full color domed, Laser engraved
and pad printing available.

Lead Time: 1-3 business days on stock USB. 10 business days on
non stock USB. Minimum order 25pcs.

Orders and Art: Info.Advantages@aztex.com

Quote Requests: Info.Advantages@aztex.com

Visit www.azxpromotions.com to see our full line of products.

Or call 1-800-558-4836
CALL FOR QUOTE!
For other new and creative products, visit the Product Central section on ASICentral.com.