| | |
| --- | --- |
| Keeping you in the loop on products and deals you may not have heard about. | February 2, 2011 |
SPONSORED BY


Hello and happy blizzardy, ice-stormy Groundhog Day, friends. Click on this 16-second video and have a laugh. I think it sums up how we are all feeling: Click Here.


The Joe Show: New Products From ASI Orlando 

The Joe Show: New Products From ASI Orlando
In this episode of The Joe Show,Counselor Managing Editor Joe Haley shows off some unique items he found during last week's ASI Orlando trade show. Want to add some flair to your client's next t-shirt purchase? Need a unique desk accessory perfect for upcoming March Madness promos? Check out this edition of The Joe Show.

Click here to see this new-products episode of The Joe Show.

Want more videos? Subscribe now to our YouTube videos.

Go Team!
The Pitch: Of course my big question this week is going to be, Packers or Steelers? Weigh in! I had dinner last week in Orlando with some great guys from BamBams (asi/38228) (hi guys!) and they have awesome accessories for fans of all kinds. Item FF-2218 does triple duty as a banner, a fan, and a clapping noisemaker. The FanFan starts at: 500; $3.57-R. Click here: http://www.bambams.com.
The Bottom Line: Applause sign.

ADVERTISEMENT

ADVERTISEMENT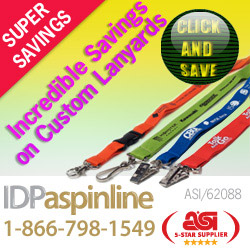 Welcome Spring
The Pitch: Hallelujah! I just checked and it seems that the groundhog has predicted an early spring. Thank you, Mr. Groundhog. So then, what better time to talk about spring promotions? American Greenwood Inc. (asi/35500) has seeded postcards that are perfect for direct mail. Item #612100 is a 4" x 5" mailer. A message is printed in full color on one side of recycled card stock and the seeded shape is attached. Once, planted it will grow wildflowers, herbs or spruce trees. Despite what the weather says, gardening time is just around the corner! Pricing starts at: 125; $1.80-P. Click here: http://www.americangreenwood.com/.
The Bottom Line: Grow you business.
Goodnight, Nurse
The Pitch: My mama was a nurse for many years and she still is the person everyone calls when something's not right. Nurses are great nurturers forever and ever, and during Nurses Week (May 6-12), they deserve to be nurtured themselves. Dream Time Inc. (asi/50807) offers a lovely heart-shaped pillow that provides localized relief with warm or cool touch. It's made from plush velvet and filled with a blend of natural herbs, cinnamon, clove and eucalyptus for aromatherapy too. Pricing starts at: 25; $35-R. See it here: http://www.relaxanddream.com/.
The Bottom Line: Have a heart.
Healthy Choice
The Pitch: We have a great article on the HR market in February Advantages magazine. Have you read that issue yet (www.advantagesmag.com)? Let me know what you think!
A big part of HR duties now includes providing health and wellness programs for employees. RFG Line (asi/82283) has an item that would be a great giveaway. Item CB583 is the Fitness and Exercise Wiz key tag. It has 36 pages filled with healthy facts. Pricing starts at: 250; $1.99-R. Email: sales@rfgline.com.  
The Bottom Line: Just the facts.
PRODUCT SPOTLIGHT
NEW! USB Sticks from AZX Sport ASI/30250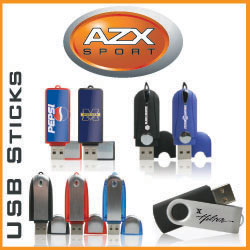 Features: 512MB - 16GB memory size available. Large variety of
colors and shapes. Ability to pre-load files onto USB.

Construction: Full color domed, Laser engraved
and pad printing available.

Lead Time: 1-3 business days on stock USB. 10 business days on
non stock USB. Minimum order 25pcs.

Orders and Art: Info.Advantages@aztex.com

Quote Requests: Info.Advantages@aztex.com

Visit www.azxpromotions.com to see our full line of products.

Or call 1-800-558-4836
CALL FOR QUOTE!
For other new and creative products, visit the Product Central section on ASICentral.com.
Advantages is bringing over 60 top suppliers to a city near you.
Come to the industry's largest and most popular traveling show, the ASI Advantages Roadshow. For a list of cities and dates, visit http://advantagesroadshow.com/. Admission is free for all distributors and salespeople! 
SPONSORED BY


Advantages™ Hot Deals is a trademark of the Advertising Specialty Institute. You were sent this newsletter as a benefit of your ASI membership. Copyright 2011, ASI. All Rights Reserved. 
If you'd like us to send Advantages Hot Deals FREE to anyone else at your company (or to your off-site sales reps), go to www.asicentral.com/newsletters and complete the online form.
Interested in advertising in Advantages Hot Deals? Send an email to ekoehler@asicentral.com
Click here to subscribe to Advantages™ magazine. If you no longer wish to receive Advantages HotDeals Newsletter,click here
Advertising Specialty Institute®, 4800 Street Road, Trevose, PA 19053