SPONSORED BY



Sales Tip of the Week
Hello from sunny San Diego, where I am attending the ASI Show. The only other time I was in San Diego, I was pregnant and there was an earthquake. Hopefully, neither of these will be the case this go around. I'll be sure to bring you back lots of great ideas and maybe some good stories from the Gaslamp Quarter. In the meantime, enjoy the ideas I've included here. Send your feedback directly to: khuston@asicentral.com. It may be published in a future issue of Advantages magazine. For free information on products featured in Advantages, click here: www.advantagesinfo.com. 
– Kathy Huston, editor 

ADVERTISEMENT


The Joe Show: 2010 New Products

 


In this episode of The Joe Show, Counselor Managing Editor Joe Haley takes a look at some of the hottest new products that suppliers have released into the market in 2010. Want to show your clients some of the latest industry offerings? Check out this episode of The Joe Show.

Click here to see this 2010 hot-products edition of The Joe Show.

Want more videos? Subscribe now to our YouTube videos.

Olympic Lip Service
The Pitch: Hey, this is pretty cool. Do you know which lip balms Hannah Kearney, Olympic skier, swears by to protect her gold-medal-winning pucker on the slopes? The line from industry supplier Aloe Up (asi/34362). In particular, item #00008 is one you might suggest to your outdoorsy-type clients. It's water-resistant SPF 25 sunblock in a jar for nose, lips and ears. Plus, it contains a minimum of 25% pure Aloe Vera gel. Pricing starts at: 12; $2.60-R. Check out all this supplier's great products here: http://www.aloeuppromo.com.
The Bottom Line: It's all downhill from here.

Clean It Up
The Pitch: Attention all germaphobes: AZX Sport (asi/30250) has just the right product to protect you from all those icky things out there in the atmosphere. Item HSDNP is an automatic hand sanitizer unit dispenser that kills 99.9% of germs. Click here to watch some cute guy demonstrate how to use it: http://www.youtube.com/watch?v=qfhG_bB7bpg. We have these all over ASI: at the front entrance, right before the café and probably in a few more areas. Pricing starts at: 1; $49.99-R. Click here to see it on the company Web site: http://www.aztex.com/.
The Bottom Line: Protect and serve.

ADVERTISEMENT

ADVERTISEMENT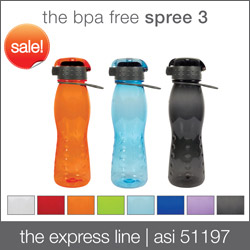 Icy Reception
The Pitch: Warm weather is coming! It will be spring in less than a month. Help celebrate with item #0160 from Plastic Premium Access (asi/78404), the Eight Frozen Pop Maker. Just fill it with fruit juice. How about wine? Does wine freeze? Then put it in the freezer and there will be frozen treats for everyone in no time. It's dishwasher safe and BPA free. Pricing starts at: 500; $7.37-R. Click here: http://www.plasticpremiums.com/.
The Bottom Line: Crowd pleaser.
Play the Game
The Pitch: At the recent International Toy Fair in New York City, one 2010 trend was obvious: family fun. Leed's (asi/66887) gives family game night a little upscale flair with its six-in-one game set constructed of UltraHyde. The set includes boards and game pieces for checkers, chess, dominoes, backgammon and cribbage, four dice, and a deck of playing cards. This is a nice employee gift or fundraiser prize. Pricing starts at: 24; $28.78-P. See it here: http://www.leedsworld.com.
The Bottom Line: Dicey situation.
Kick It!
The Pitch: Before I get started, please yell the headline for this one like the beginning of the Beastie Boys song (you know the one). OK, now here's the deal: Express Pens/Express Time Source (asi/53411) has a unique new metal soccer player key tag that caught my eye as I was doing my research. It's perfect for World Cup tie-ins, as well as youth soccer programs and fundraisers. And you know what? It's also great for anyone who's going for the goal, looking to score (matchmaking sites? LOL), and any other sports cliché you can think of. Plus, you can get it at EQP until 4/30/10. Click on: http://www.expresspens.com.
The Bottom Line: Your key to sales.
Advantages is bringing over 60 top suppliers to a city near you. 
Come to the industry's largest and most popular traveling show, the ASI Advantages Roadshow. For a list of cities and dates, visit http://advantagesroadshow.com/. Admission is free for all distributors and salespeople! 
SPONSORED BY


Advantages™ Hot Deals is a trademark of the Advertising Specialty Institute. You were sent this newsletter as a benefit of your ASI membership. Copyright 2010, ASI. All Rights Reserved. 
If you'd like us to send Advantages Hot Deals FREE to anyone else at your company (or to your off-site sales reps), go to www.asicentral.com/newsletters and complete the online form.
Interested in advertising in Advantages Hot Deals? Send an email to ddienna@asicentral.com
Click here to subscribe to Advantages™ magazine. 
Advertising Specialty Institute®, 4800 Street Road, Trevose, PA 19053