SPONSORED BY


You're halfway through the week everyone. Congratulations! Did you watch the Oscars on Sunday? I'm proud to say I stayed awake for the whole thing, but I'm not proud to report I did not win our office pool (kudos to Dave Vagnoni). Having seen only Sex and the City and Mamma Mia this movie season, I suppose that


Sales Tip of the Week
was to be expected (even though Dave insists he has only seen Wall-E). At any rate, I enjoyed the spectacle of it all. Enjoy this spectacle, too, and send your feedback directly to: khuston@asicentral.com. It may be published in a future issue of Advantages magazine. For free information on products featured in Advantages, click here: www.advantagesinfo.com.

– Kathy Huston, editor 




ADVERTISEMENT


Drug Czar
The Pitch: We held my dad's 70th surprise birthday dinner this past Saturday and if there's one thing people his age are happy to get for free (besides a meal), it's a pill holder. For real, you might think you're in the Valley of the Dolls down there in their 55-plus development. Bay State (asi/38980) has just what the doctor ordered. Item H792 is a pill tray/organizer that holds seven day's worth of meds for morning, noon, eve and bedtime. Pricing starts at: Qty.-100; list price-$6.30; price code-P. Check it out at: www.baystate.com.
The Bottom Line: All together now.

Thanks a Bunch
The Pitch: Last night, President Obama called for a renewed spirit of national service. And volunteers are all around us; from the PTO parent to your kid's little league coach to the volunteer fire fighter to the Peace Corps rep. Help recognize their efforts large and small. Volunteer Appreciation Week is April 19-25. The Book Company (asi/41010) offers The Heart of a Volunteer hardcover quotation book. Pricing starts at: Qty.-50; list price-$7.95; price code-R. Check it out at: www.thebookco.net.
The Bottom Line: Show some appreciation.
ADVERTISEMENT

ADVERTISEMENT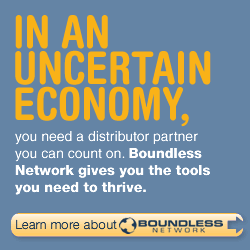 Planet Love
The Pitch: Earth Day is April 22, so get your green on with the "I (heart) Earth" pin from Bizpins (asi/40595). Item ST-405 starts at: Qty.-25; list price-$3.45; price code-P. I'm sure there will be a number of events you can help with right in your neighborhood. Web address: www.bizpins.com.
The Bottom Line: Keen on green.
That's the Sweet Spot
The Pitch: If you are looking for a hot new coffee mug (and who isn't?), Berney-Karp (asi/40261) offers item #602-8071, its 14-oz. ceramic mug with "sweet-spot handle." I'm not sure if the sweet spot at the top of the handle is for your thumb or a small treat, but you can check it out at: www.ceramic-source.com. You can also glam it up with a sparkling glitter imprint at $1 (G) extra per piece. Pricing for the regular mug starts at: Qty.-144; list price-$3.99; price code- R.
The Bottom Line: Sweet and steamy sales.
Burn, Baby, Burn
The Pitch: I am happy to report I have been exercising as I said I would for my New Year's resolution. Of course, it is almost March and I just began three weeks ago, so it was a slow start (and you never know when I will fall off the wagon again, so don't get your hopes up). Anyway, a nifty product for people who want to burn calories comes from Ariel Premium Supply (asi/36730). Item WHF-DJ01 is a digital jump rope that tracks jumps, calories burned and training time. A replaceable button cell battery is inserted. Pricing starts at: Qty.-50; list price-$7.35; price code-R. Check it out at: www4.arielpremium.com
The Bottom Line: Jump on it.
From the ASICentral.com Team
With the economy in the throes of recession, we fully expected results to the following ASICentral poll question to lean heavily toward the negative:

How do you expect your 1st Quarter 2009 sales to compare to 1st Quarter 2008?
Surprisingly, they didn't. Click here to get a breakdown of the rose-colored data and to find out what it all might mean in the long run.

Got questions, comments or any type of feedback regarding anything ASICentral, don't hesitate to contact us at feedback@asicentral.com, and please check the Team Blog often for site updates. And if you're not already a fan of ASICentral on Facebook, what are you waiting for?
Advantages is bringing over 60 top suppliers to a city near you. 
Come to the industry's largest and most popular traveling show, the ASI Advantages Roadshow. For a list of cities and dates, visit http://www.asishow.com/advroadshow/. Admission is free for all distributors and salespeople! 
SPONSORED BY


Advantages™ Hot Deals is a trademark of the Advertising Specialty Institute. You were sent this newsletter as a benefit of your ASI membership. Copyright 2009, ASI. All Rights Reserved. 
If you'd like us to send Advantages Hot Deals FREE to anyone else at your company (or to your off-site sales reps), go to www.asicentral.com/newsletters and complete the online form.
Interested in advertising in Advantages Hot Deals? Send an email to ddienna@asicentral.com
Click here to subscribe to Advantages™ magazine. 
Advertising Specialty Institute®, 4800 Street Road, Trevose, PA 19053