SPONSORED BY


Hi, kids. How are tricks? Here are some more tricks to keep up your sleeve.  Enjoy! Send your feedback directly to: khuston@asicentral.com. It may be published in a future issue of Advantages magazine. For free information on products featured in Advantages, click here: www.advantagesinfo.com.

– Kathy Huston, editor 




ADVERTISEMENT


Hot or Not?
The Pitch: When my son Matt was in first grade, he came home from school and told me he thought he was getting sick. I asked why and he said his teacher said all the kids had spring fever. LOL. People who actually need to check someone's temp, however, would appreciate item AD-197 from Advantage Industries (asi/31570). It's a digital thermometer/pen. It's not only cool, it's great for the healthcare industry, day care centers and on-the-go parents. Pricing starts at: Qty.-100; list price-$5.99; price code-R. Web address: www.advantageindustries.com.
The Bottom Line: Feel the heat.

You're Covered
The Pitch: CNN reports condom sales are up, despite the bad economy, perhaps because people don't want more babies if they can't afford them at this time (unless you're like that woman who now has 14).  Custom Condoms (asi/47929) offers the handy condom key chain (item CKP). Pricing starts at: Qty.-500; List price- $1.68; price code- R. This would be perfect for college campuses, HIV/Aids awareness programs and clinics. You can check it out at: www.customcondoms.net.
The Bottom Line:  An ounce of prevention. Baby, You're a Star
The Pitch:  The Oscars are this Sunday already. I saw zero of the nominated films. The last movie I saw was on Lifetime Television for Women. Did you know
ADVERTISEMENT

ADVERTISEMENT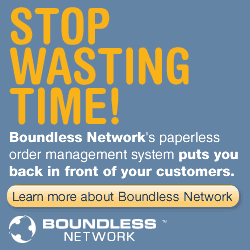 RS Owens & Co. (asi/75530) manufactures the Oscar statues? Yes, I, too, think that is awesome. This supplier has a vast variety of elegant awards for any rising star. Item #9840, for instance, is the diamond- shaped starfire glass award on a contemporary satin-pewter- finish base. Pricing starts at: One for $238.20, R. Web address:  www.rsowens.com.
The Bottom Line: Awards night.

Pump It
The Pitch:  Help anyone pump up the non-A-rod way with an executive dumbbell set (5 lbs) from Marcus Engravers (asi/68736). Item #2338 has a silver-tone finish and pricing starts at: Qty.-6; list price-$62; price code-R.  This would be a nice gift for anyone who really pulls his or her weight around the office, as well as a welcome award at a fitness competition. Think about your spa and health club clients too. Web address: www.awardsandrewardsusa.com.
The Bottom Line: Muscle your way in.
ADVERTISEMENT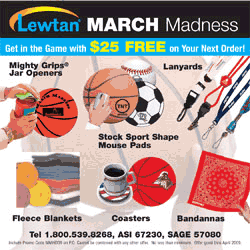 The Honeymooners
The Pitch:  I've already received two shower invitations, which means the height of wedding season is just around the corner. Peter Pauper Press (asi/77802) offers item #8013, The Little Black Book of 101 Top Honeymoon Destinations by Elizabeth Borsting.  Themed chapters include Cosmopolitan, Adventure, Luxurious, Exotic, Cruise, Celebrity, Classic, and Island and Beach front. Wouldn't this be a fun book for travel agents to give to couples looking for honeymoon ideas? This is also swell for wedding planners, bridal shops, jewelry stores (with purchase of the ring), and bridal expos. Pricing starts at: Qty.-100; list price-$8.03; price code-R. Web address:  77802.asisupplier.com.
The Bottom Line: Tripped up.
Advantages is bringing over 60 top suppliers to a city near you. 
Come to the industry's largest and most popular traveling show, the ASI Advantages Roadshow. For a list of cities and dates, visit http://www.asishow.com/advroadshow/. Admission is free for all distributors and salespeople! 
SPONSORED BY


Advantages™ Hot Deals is a trademark of the Advertising Specialty Institute. You were sent this newsletter as a benefit of your ASI membership. Copyright 2009, ASI. All Rights Reserved. 
If you'd like us to send Advantages Hot Deals FREE to anyone else at your company (or to your off-site sales reps), go to www.asicentral.com/newsletters and complete the online form.
Interested in advertising in Advantages Hot Deals? Send an email to ddienna@asicentral.com
Click here to subscribe to Advantages™ magazine. 
Advertising Specialty Institute®, 4800 Street Road, Trevose, PA 19053