At Your Service
The Pitch: If you've got restaurant/bar clients, Blue Generation (asi/40653) has just what they need: Cocktail, waist-style aprons with stain release. They are made from easy-care polyester/cotton-blend twill and have four pockets. They are priced per piece at one for $11-P and sold in six-unit pre-packs. Check them out here: http://bluegeneration.com/.
The Bottom Line: Tie one on.
ADVERTISEMENT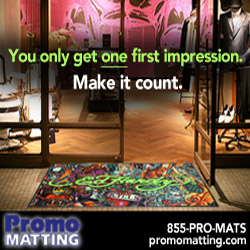 The Brush-Off
The Pitch: This time of year, there are probably a lot of cookie crumbs stuck in computer keyboards, dontcha think? Well, Jetline (asi/63344) has the perfect desk accessory: a retractable computer brush featuring matching color brush with non-static 100% nylon bristles. It's on closeout pricing in translucent orange only while supplies last. Click here: http://jetlinepromo.com/.
The Bottom Line: Clean-up crew.
Weight Watcher
The Pitch: You know weight-loss centers and health clubs are going to see a lot of action after January 1. Why not help them promote their services all year long? Apothecary Products (asi/36545) offers their new Meal Minder Portion Control Plate. It fits on most dinner plates and is compatible with most portion control diets. The item is top-rack dishwasher safe and made in the USA. Pricing starts at: 250; $7.60-P. Click here: http://dc.apiline.com/.
The Bottom Line: Curb your appetite.
Error-Free
The Pitch: Make no mistake, the Eraselet is a cool product. Well, you can make mistakes, actually, because it's a bracelet that erases and it's from Sanders Mfg. Company (asi/84820). Plus, equally cool, is that a portion of the proceeds goes to Erase World Hunger Organization. This is a perfect fit for the education market. Pricing starts at: 250; 98 cents-R. Check it out: http://samcoline.com/.
The Bottom Line: No trace.
PREVIEW THE ASI SHOW!

CLICK HERE FOR SPECIAL OFFERS


Apothecary Products Inc.
asi/36545

EMT
asi/52263

Ritter Pen Corp
asi/82528

Vantage Apparel
asi/93390

Vonco Products Inc
asi/94180
 
Click Here to view the 2013 ASI Show! Orlando Exhibitors