| | |
| --- | --- |
| Keeping you in the loop on products and deals you may not have heard about. | December 14, 2011 |
SPONSORED BY


| | |
| --- | --- |
| 1-Minute Case Study | Howdy y'all! I'm writing like that because we had our cowboy-themed company party yesterday, where I enjoyed watching my trusty sidekick, Jen Vishnevsky, fall off the mechanical bull … twice (if you go to our Facebook page, you can see it for yourself). But click on the video to the left and you'll see Jen doesn't fall down on the job. Here, she presents her One-Minute Case Study to inspire you to come up with your own creative self-promos. Enjoy it and enjoy this edition too. Send your feedback directly to: khuston@asicentral.com. It may be published in a |

future issue of Advantages magazine. For free information on products featured in Advantages, click here: www.advantagesinfo.com. Kathy Huston, editor




WE LOVE OUR READERS


Please "like" us on our Advantages magazine Facebook page. We're the fun-yet-highly-informative industry magazine written just for you. You'll get great sales tips, daily inspiration, product ideas, helpful videos and more. Go to: www.facebook.com/advantagesmag and like our page, because we love you. You can also follow us on Twitter: @kathyadvantages and @Jen_Advantages.

How Did You Do That?
I'm looking for stories of overcoming sales challenges and obstacles for a new section of our magazine. If you've successfully dealt with a difficult client, a tough turnaround time, an order that went awry, etc., please email me ASAP: khuston@asicentral.com.


The Joe Show:
Good Things Come Small

The Joe Show: Good Things Come Small
In this episode of The Joe Show, Managing Editor Joe Haley shows off some unique, yet smaller, items that are sure to catch your clients' attention. Want a clever item for beverage promotions? How about a lip balm perfect for campaigns targeted to eco-conscious consumers? Check out the video.    

Click here to watch this small-products episode of The Joe Show.

Want more videos? Subscribe now to our YouTube videos.

ADVERTISEMENT

| | |
| --- | --- |
| ADVERTISEMENT | ADVERTISEMENT |
Rally Cry
The Pitch: "The Protester" is Time magazine'sPerson of the Year and what any good protester needs is a jumbo, 22-point, white poster-board hand sign from Lion Circle Corp. (asi/67620). It's liquid-laminated with a glued wooden stick. Think of these for all those campaigns coming up too, as well as sporting events, pep rallies, trade shows, fundraisers and more. Pricing starts at: 250; 92 cents. Click here: http://www.lioncircle.com.
The Bottom Line: Sign of the times.
Big Hugs
The Pitch: My horoscope today says I should give more hugs and high-fives. If you ever see me at a trade show, you better watch out (and you better not cry! I'm in the Christmas spirit!). Aura Badge Co. (asi/37470) offers hugs galore with the Hug Me super-soft fleece blanket with sleeves. These are great for the college market. Pricing starts at: 24; $21.57. Click here: http://www.aurabadge.com/.
The Bottom Line: Big wraparound.
ADVERTISEMENT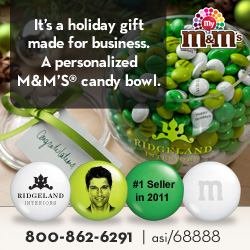 To the Extreme
The Pitch: This is cool for just about anyone, including travelers, college kids and techno types and perfect for incentive programs. Gemline (asi/56070) offers the Vertex Xtreme Messenger Bag, which features the Viewpoint System for easy storage and scanning of a laptop. A welded front panel provides water-resistant construction. An interior padded pocket can hold a tablet or e-reader and there's a multi-functional organizer. Pricing starts at: 12; $55.48.You can see it in action in this awesome skydiving video: http://www.youtube.com/watch?v=rtLQjSo2CZQ.
The Bottom Line: The sky's the limit.
Down to Business
The Pitch: In February, we're presenting the results of our business-card contest in Advantages magazine and AuthentiBrands (asi/30118) offers a unique holographic 3D animated twist on them. The supplier also has 3D bookmarks that are so very cool. I have one in front of me that has a T-Rex running on it. For pricing and other information, click on: http://www.holobrands.com/.
The Bottom Line: Add some dimension.
PREVIEW THE ASI SHOW!

CLICK HERE FOR SPECIAL OFFERS


Vantage Apparel
asi/93390

Prime Resources
Corp USA asi/79530

Apothecary Products Inc. asi/36545

Vonco Products Inc. asi/94180
SPONSORED BY


Advantages™ Hot Deals is a trademark of the Advertising Specialty Institute. You were sent this newsletter as a benefit of your ASI membership. Copyright 2011, ASI. All Rights Reserved.
If you'd like us to send Advantages Hot Deals FREE to anyone else at your company (or to your off-site sales reps), go to www.asicentral.com/newsletters and complete the online form.
Interested in advertising in Advantages Hot Deals? Send an email to ekoehler@asicentral.com
Click here to subscribe to Advantages™ magazine. If you no longer wish to receive Advantages HotDeals Newsletter, click here
Advertising Specialty Institute®, 4800 Street Road, Trevose, PA 19053