| | |
| --- | --- |
| ADVERTISEMENT | ADVERTISEMENT |
The Hulk
The Pitch: It's not going to bust out of its encasement, but the brand-new Hulk-A-Lighter from Nationwide Promotions (asi/73464) is sure to be a big presence in all types of promotions. The highlighter is 8" long with a wide body. It comes in cool colors like Electric Pink, Zippy Red, True Blue, Sublime Lime, Winter White and Juicy Orange. You can get it for as low as $1.33 (r). Check this big boy out here: http://nationwidepromotions.com/.
The Bottom Line: This is going to be huge.
ADVERTISEMENT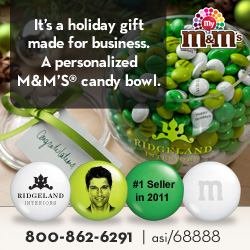 Dog Days
The Pitch: The world's oldest dog died today in Japan. He was 26 years and nine months old. I don't mean to bring you down; he must have lived a good life. Help other dogs live a good life too with healthy fun. WOV-IN's (asi/73464) Tuff Balls are made of colorfast, non-abrasive polyester felt for a dog's healthy teeth and gums. They are attached to a carry handle that's soft on teeth and hands but durable and chew resistant. A foam plug insert makes the toy float for easy water retrieval. Pricing starts at: 50; $6.74. Click here: http://www.wov-in.com/.
The Bottom Line: Play fetch.
Hall of Fame
The Pitch: Congrats to the Red Hot Chili Peppers (I just love them), who will be inducted into The Rock and Roll Hall of Fame (if you've never visited, you should go … it's awesome). Rock out at your desk to this: http://bit.ly/4N651e. And also take a look at this award from, which also rocks my socks, because it's as unique as the Peppers themselves. It's from Fields Manufacturing (asi/54100) and 3D sculptures are handcrafted from an individual's or company's business cards and placed in a shadow box with matting and a personalized plate. This is such a great idea for all types of recognition programs. Pricing starts at: one for $120. You should provide 20 business cards for each unit. Check it out: http://fieldsmfg.com/.
The Bottom Line: A true standout.
Drinks On Us
The Pitch: I like wine and I like coasters (ask my kids; I'm always telling them and their friends to use one). Americanna Co. (asi/35730) offers this great new set of six cork coasters in a holder that can also act as a wine bottle holder when the coasters are out of it. This is perfect for wine festivals and wineries as a gift with purchase. Pricing starts at: 25; $10.70. Click here: http://americanna.com/.
The Bottom Line: Pop the cork.