Advantages™ Hot Deals Newsletter
Volume 359 / December 29, 2010 
Keeping you in the loop on products and deals you may not have heard about.
SPONSORED BY



Hello, friends. A mere 70 years ago on this very day, my ever-so-young-at-heart mom, Genevieve, was born. And we all know that if it wasn't for her, you would never be getting your "Hot Deals," so let's rejoice! Enjoy this "Genevieve's Birthday" edition and I'll see you in 2011! Send your feedback directly to:  khuston@asicentral.com. It may be published in a future issue of Advantages magazine. For free information on products featured in Advantages, click here: www.advantagesinfo.com.

PRODUCT SPOTLIGHT


– Kathy Huston, editor 





The Joe Show:
The Best Of 2010

The Joe Show: The Best Of 2010
In this year-end special episode of The Joe Show, Counselor Managing Editor Joe Haley looks back at some of his favorite items that have been shown on The Joe Show in 2010. This best-of edition is sure to provide some of the most unique and creative items in the market today. Looking for great ideas to present to clients in 2011? Check out this special episode of The Joe Show.  

Click here to see this Best-of-2010 edition of The Joe Show.

Want more videos? Subscribe now to our YouTube videos.

Spillover
The Pitch: I read a report yesterday that many Northeastern hospital maternity wards should be expecting Blizzard Babies nine months from now, given that Northeasterners have been trying to find ways to warm up (shall we say?) the past couple of snowbound days and nights. Ahem. On that note, you really should try pitching this product to your local baby-related clients, such as doctors, hospitals, daycare centers, Mommy and Me classes, birthing classes and more. Item RS1000 from Broder Bros. (asi/42090) is a pullover towel bib, made from 100% cotton terry. This was my favorite type of bib when my boys were babies and let me tell ya, they were messy. You can get it for as low as: 144; $5.36-P. Click here: https://www.broderbros.com.
The Bottom Line: Easy clean-up.

ADVERTISEMENT


No Mud Wrestling
The Pitch: Driving into work this morning I thought to myself, I really don't like when the snow turns muddy. How about you? Well you don't have to worry about that with custom crystal snow globes from Createplus LLC (asi/47650). These are a unique idea for souvenir shops at tourist destinations, hotel openings, ribbon cuttings and much more. Pricing starts at: 500; $13.42-T. Check out item CP101187 on ESP or email: info@createpluspromo.com
The Bottom Line: Snow daze.

| | |
| --- | --- |
| ADVERTISEMENT | ADVERTISEMENT |
Believe It, Achieve It
The Pitch: I don't know about you, but I'm really not feeling motivated here this week. I've got holiday fever, kids. Anyone seeking a little motivation could use item WORD06A from The Magnet Group (asi/68507). It's a message magnet with 16 motivational words, such as "Achieve," "Determined," and "Reach." It has a full magnet backing and is cut so that magnets are easily pulled apart. It's a great idea for schools and offices. Pricing starts at: 250; 0.67-R. Click here: http://www.themagnetgroup.com.
The Bottom Line: Sales that stick.
Survivor
The Pitch: Here's something that's perfect for campers, hunters, hikers and other outdoorsy types. The compact emergency survival kit from Innovation Factory (asi/62667) features survival items sealed inside a waterproof steel can that may be used as a cooking pot or as a drinking cup. Includes: Folding wing stove, solid fuel tablets, strike anywhere matches, poly water bag, hard candy, instant broth, high-energy drink mix, tea bags, sugar packets, aluminum foil, survival instructions, and resealable top. Pricing starts at: 50; $10.50-R. Email: mike@innovationfactory.com.
The Bottom Line: A helping handout.
PRODUCT SPOTLIGHT
NEW! USB Sticks from AZX Sport ASI/30250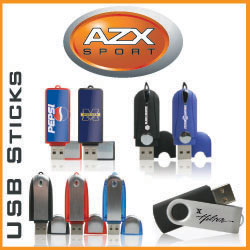 Features: 512MB - 16GB memory size available. Large variety of
colors and shapes. Ability to pre-load files onto USB.

Construction: Full color domed, Laser engraved
and pad printing available.

Lead Time: 1-3 business days on stock USB. 10 business days on
non stock USB. Minimum order 25pcs.

Orders and Art: Info.Advantages@aztex.com

Quote Requests: Info.Advantages@aztex.com

Visit www.azxpromotions.com to see our full line of products.

Or call 1-800-558-4836
CALL FOR QUOTE!
For other new and creative products, visit the Product Central section on ASICentral.com.
Advantages is bringing over 60 top suppliers to a city near you.
Come to the industry's largest and most popular traveling show, the ASI Advantages Roadshow. For a list of cities and dates, visit http://advantagesroadshow.com/. Admission is free for all distributors and salespeople! 
SPONSORED BY


Advantages™ Hot Deals is a trademark of the Advertising Specialty Institute. You were sent this newsletter as a benefit of your ASI membership. Copyright 2010, ASI. All Rights Reserved. 
If you'd like us to send Advantages Hot Deals FREE to anyone else at your company (or to your off-site sales reps), go to www.asicentral.com/newsletters and complete the online form.
Interested in advertising in Advantages Hot Deals? Send an email to ekoehler@asicentral.com
Click here to subscribe to Advantages™ magazine. 
Advertising Specialty Institute®, 4800 Street Road, Trevose, PA 19053