Advantages™ Hot Deals Newsletter
Volume 357 / December 22, 2010 
Keeping you in the loop on products and deals you may not have heard about.
 

SPONSORED BY

Ho, ho ho! Three more days! Hope Santa brings you everything you want and more importantly, good health and lots of happiness! Click here if you want to waste some time. Type in any Christmas song and they will sing it; if they don't know it, they will let you know in a funny way: http://www.sundog.net/carolofthechins/flash/card.swf. Enjoy this edition and send your feedback directly to: khuston@asicentral.com. It may be published in a future issue of Advantages magazine. For free information on products featured in Advantages, click here: www.advantagesinfo.com.

PRODUCT SPOTLIGHT


– Kathy Huston, editor 





The Joe Show:
Looking To 2011

The Joe Show: Looking To 2011
In this episode of The Joe Show, Counselor Managing Editor Joe Haley shows off some great new ad specialty items on the market. Want new ideas for the New Year? Looking to attract new clients with unique product ideas? Check out this episode of The Joe Show.  

Click here to see this new-products edition of The Joe Show.

Want more videos? Subscribe now to our YouTube videos.

Healthy Choice
The Pitch: OK, for the next week, I will be eating everything in sight and not feeling one bit guilty. How about you? After that, however, it makes sense to go back to healthier choices. You Bar (asi/98848) can help with that. This supplier offers customized, fresh, handmade nutrition bars, protein bars, candy bars and energy bars with your client's company name and logo printed on the package. Every bar has its own custom nutrition label, ingredient list, allergy information and expiration date. It's a great idea for health fairs, corporate events, fundraisers, trade shows and more. Pricing starts at: 130; $3.98-R. Click on: www.youbars.com.
The Bottom Line: Nuts about it.

ADVERTISEMENT

ADVERTISEMENT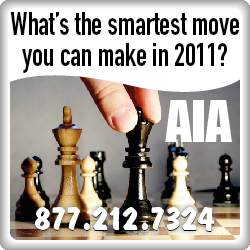 Push Plush
The Pitch: A couple of days ago, I went outside in my thin robe and slippers to witness the lunar eclipse at 3:30 a.m. Since I'm always awake tossing and turning at that time anyway, I figured, why not go ahead and see this supposed astronomical marvel? If what you see is no moon and a dark sky, then, yes I did see that. I wasn't that impressed, and I was freezing out there! I could really have used a better robe, such as item KH4812 from Terry Collection (asi/90912). This plush and luxurious heavyweight, terry velour kimono robe is perfect for your resort clients. Pricing starts at: 10; $48.50-P for white. Color costs extra, so talk to the supplier. Click here: http://www.terrycollection.com/.
The Bottom Line: Snuggle up.
Measure of Success
The Pitch: You can always use a tape measure. You never know what will need measuring during your day. Spot 25 Inc. (asi/88883) has item JS0663, a car-shape tape measure key chain made of plastic and metal. Centimeters and inches can be measured. Choose from a variety of colors. You really "auto" pitch this to your car-related clients. Get it? And no, I have not been hitting the eggnog ... yet. Pricing starts at: 5000; $2.17-T. Check it out: http://www.spot25.com/.
The Bottom Line: Cool ride-along.
What an Animal!
The Pitch: How fun are these? Talking bear pens from Way2Cool Inc. (asi/95735) are what any kid would love. Think of these for zoo stores, definitely, and any kid-related program at all. Pricing starts at: 96; $2.95-R. See them here: http://way2coolpromo.com/.
The Bottom Line: Wild times.
PRODUCT SPOTLIGHT
NEW! USB Sticks from AZX Sport ASI/30250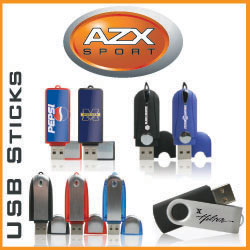 Features: 512MB - 16GB memory size available. Large variety of
colors and shapes. Ability to pre-load files onto USB.

Construction: Full color domed, Laser engraved
and pad printing available.

Lead Time: 1-3 business days on stock USB. 10 business days on
non stock USB. Minimum order 25pcs.

Orders and Art: Info.Advantages@aztex.com

Quote Requests: Info.Advantages@aztex.com

Visit www.azxpromotions.com to see our full line of products.

Or call 1-800-558-4836
CALL FOR QUOTE!
For other new and creative products, visit the Product Central section on ASICentral.com.
Advantages is bringing over 60 top suppliers to a city near you.
Come to the industry's largest and most popular traveling show, the ASI Advantages Roadshow. For a list of cities and dates, visit http://advantagesroadshow.com/. Admission is free for all distributors and salespeople! 
SPONSORED BY


Advantages™ Hot Deals is a trademark of the Advertising Specialty Institute. You were sent this newsletter as a benefit of your ASI membership. Copyright 2010, ASI. All Rights Reserved. 
If you'd like us to send Advantages Hot Deals FREE to anyone else at your company (or to your off-site sales reps), go to www.asicentral.com/newsletters and complete the online form.
Interested in advertising in Advantages Hot Deals? Send an email to ekoehler@asicentral.com
Click here to subscribe to Advantages™ magazine. 
Advertising Specialty Institute®, 4800 Street Road, Trevose, PA 19053