Hello, friends. On my to-do list today: Be part of a panel discussion on creative writing; shoot the Sales Tip video you see here (I wore my favorite red jacket); meet with Jen Vishnevsky, Advantages' Staff Writer extraordinaire, about her February assignment; and attend my publisher's Holiday soiree (we always have a swell time there; he's a great cook too – I love his Brussels sprouts). But before I do any of those things, I'm getting your Hot Deals written,


Sales Tip of the Week
proofed and from my computer over here in Trevose PA to yours, wherever you might be. Enjoy this edition and send your feedback directly to: khuston@asicentral.com. It may be published in a future issue of Advantages magazine. For free information on products featured in Advantages, click here: www.advantagesinfo.com.

PRODUCT SPOTLIGHT


– Kathy Huston, editor 


The Joe Show: Hot Products For The New Year

The Joe Show: Hot Products For The New Year
n this episode of The Joe Show, Counselor Managing Editor Joe Haley shows off some great new ad specialty items on the market. Want new ideas for the New Year? Looking to attract new clients with unique product ideas? Check out this episode of The Joe Show.  

Click here to see this new-products edition of The Joe Show.

Want more videos? Subscribe now to our YouTube videos.

Passion for Fashion
The Pitch: Golden Goods USA (asi/57695) partners Jeff Scult and Jeffrey Levine have the goods, as the name implies, when it comes to stylish and high-quality industry apparel. Not only do they bring decades of branding and retail fashion experience to their offerings, but in my opinion, they are two very handsome guys to boot (that never hurts, does it?). One of their hot new items is item GG 600, a unique unisex fashion hoodie, made from 100% combed ringspun Jersey cotton T-shirt fabric. It's custom garment-dyed to any color match, and garment-washed for extra softness. The supplier also uses an eco-friendly water-based discharge printing technique. Pricing starts at $25 net at 100 pieces. Any market looking for quality apparel as a brand extension would appreciate this pitch. Email Jeff for more information (he is ever-so friendly): jscult@goldengoodsusa.com. See their products and some great testimonials here: http://goldengoodsusa.com/.
The Bottom Line: Try this on for size.

ADVERTISEMENT

| | |
| --- | --- |
| ADVERTISEMENT | ADVERTISEMENT |
Bang the Drum
The Pitch: Hooray! The Phillies signed pitcher Cliff Lee back to the team; snatched him from the Yankees, just like that! Can you say World Series? I know, I know, I'm getting way ahead of myself (you know I always do). Here's a way to snatch some great business from your competition: Use real wooden drumsticks as a unique self-promotion and literally drum up new business. Coopersburg Sports Ltd. (asi/46644) offers item DS16, real hardwood drum sticks with multiple full-color, high-resolution images or pictures imprinted on them using a patented 360-degree wrap process. Think of these for: radio stations, rock bands, marching bands, concert merchandise, music festivals, record stores, parties and more. They are sold per stick and pricing starts at: 50; $6-P. Email Patrick at: poconnell@coopersburgsports.com.
The Bottom Line: Bring in the noise.

ADVERTISEMENT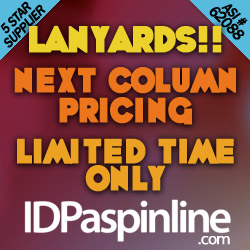 Pick Me
The Pitch: Let's stick to the topic of music for a minute. (By the way, I have "Just a Friend" by Biz Markie running through my head and I can't get it out.) Greatbigstuff.com (asi/58061) has a giant guitar pick that's great for autographs at concerts or for any musician or music lover to display. Pricing starts at: one; $16.77-W. You can see it here: http://www.greatbigstuff.com/k. And, if you want a fun diversion, click here to hear the Chipmunks' version of the song that's running through my head: http://www.youtube.com/.
The Bottom Line: Hit the high notes.
Sometimes You Feel Like a Nut
The Pitch: And when you do feel like a nut, or some candy or whatnot, The Webb Company (asi/95838) offers item PLA9007-A, a candy and nut dispenser, which is perfect for home or office. It starts at: 25; $8.09-R and the supplier is offering a buy one get one 1/2 off deal. Promo Code: WBBOGO; expiration date: 01/11/2011. Click here for this nutty idea: http://www.webbcompany.com/.
The Bottom Line: Dispense with it.
PRODUCT SPOTLIGHT
NEW! USB Sticks from AZX Sport ASI/30250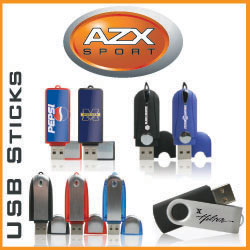 Features: 512MB - 16GB memory size available. Large variety of
colors and shapes. Ability to pre-load files onto USB.

Construction: Full color domed, Laser engraved
and pad printing available.

Lead Time: 1-3 business days on stock USB. 10 business days on
non stock USB. Minimum order 25pcs.

Orders and Art: Info.Advantages@aztex.com

Quote Requests: Info.Advantages@aztex.com

Visit www.azxpromotions.com to see our full line of products.

Or call 1-800-558-4836
CALL FOR QUOTE!
For other new and creative products, visit the Product Central section on ASICentral.com.
Advantages is bringing over 60 top suppliers to a city near you.
Come to the industry's largest and most popular traveling show, the ASI Advantages Roadshow. For a list of cities and dates, visit http://advantagesroadshow.com/. Admission is free for all distributors and salespeople! 
SPONSORED BY


Advantages™ Hot Deals is a trademark of the Advertising Specialty Institute. You were sent this newsletter as a benefit of your ASI membership. Copyright 2010, ASI. All Rights Reserved. 
If you'd like us to send Advantages Hot Deals FREE to anyone else at your company (or to your off-site sales reps), go to www.asicentral.com/newsletters and complete the online form.
Interested in advertising in Advantages Hot Deals? Send an email to ekoehler@asicentral.com
Click here to subscribe to Advantages™ magazine. 
Advertising Specialty Institute®, 4800 Street Road, Trevose, PA 19053