Happy birthday to my pal, Ann Gergal, a senior account executive in our Distributor Sales department here at ASI. (If you know Ann, you know she is adorable and always smiling, so why not send her a birthday wish and make her that much happier?). Hope this edition


The Joe Show:
New Products For 2011

The Joe Show: New Products For 2011
In this episode of The Joe Show, Counselor Managing Editor Joe Haley shows off some cool new items to hit the ad specialty market. Looking for ways to spark new ideas? Want to catch prospects' attention in 2011 with useful and unique items? Check out this episode of The Joe Show.  

Click here to see this new-products edition of The Joe Show.

Want more videos? Subscribe now to our YouTube videos.

Team Effort
The Pitch: Speaking of pals, my email buddy Paul Winkler, Director of Promotional marketing at Drew & Rogers, is a diehard Eagles fan, but gave his tickets for last Thursday night's Eagles game to one of his best clients. Now, that's how you win loyalty and business, people. He also invited a bunch of folks who don't have Directv over to his house. Now, that's how you win friends! Fortune Products Inc. (asi/55127) has an awesome light-up, color-changing ice bucket to make any football-watching extravaganza even more festive. Item IB-RGBW6 starts at: 50; $20.58-R. Think about upcoming New Year's events, the Super Bowl and any special get-together. Give these to your own best clients with a bottle of champagne inside. See it here: http://www.fortuneproducts.com/ice_bucket.html.
The Bottom Line: Put it on ice.

ADVERTISEMENT

| | |
| --- | --- |
| ADVERTISEMENT | ADVERTISEMENT |
Party Time…Excellent!
The Pitch: On the topic of parties, ASI is hosting a "Holiday Carnival" tomorrow for employees. I can't wait to see what awaits us. I thought all the carny freaks worked in the Editorial department. (Just kidding, my always-delightful coworkers!) AlightPromos.com (asi/34194) has Mardi Gras light-up tube necklaces starting at: 20; $2.62-R. These would be fun for any carnival, festival, concert, sporting event and more. Click here: http://www.alightpromos.com/.
The Bottom Line: Light up the world.


| | |
| --- | --- |
| ADVERTISEMENT | ADVERTISEMENT |
No Pressure
The Pitch: My son's front tire, for some reason, always looks like it's losing air, although the kid at the gas station could not find any leaks. But my husband is always telling Matt he has to keep his eye on the situation (you know how dads are). 99centpromos.com (asi/73967) has just the thing for this: item #5026 is a mini tire-pressure gauge on a keychain. You can get it as low as 89cents (C). This is what you should pitch to your automotive clients. Click here: http://99centpromos.com/ecommerce/.
The Bottom Line: Assess the situation.
Watch the Clock
The Pitch: I had no clue, but yesterday my husband told me that any time you see a clock or watch ad, the time is set to 10:10. So, I just did an ESP search for clocks and it's true! Steve-O was right. I'll let him know, since I don't like to tell him he's right too often. Anyway, while perusing the clock offerings on ESP, I found the funny new desktop Clock Man from Prime Resources Corp. (asi/79530). It has an alarm and 8 different facial expressions and a snooze function. It's fun for offices and dorm rooms alike. Pricing starts at: 50; $7.50-R. See it here: http://www.primeline.com/Products/.
The Bottom Line: Make faces.
PRODUCT SPOTLIGHT
NEW! USB Sticks from AZX Sport ASI/30250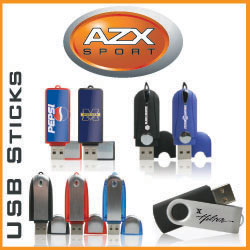 Features: 512MB - 16GB memory size available. Large variety of
colors and shapes. Ability to pre-load files onto USB.

Construction: Full color domed, Laser engraved
and pad printing available.

Lead Time: 1-3 business days on stock USB. 10 business days on
non stock USB. Minimum order 25pcs.

Orders and Art: Info.Advantages@aztex.com

Quote Requests: Info.Advantages@aztex.com

Visit www.azxpromotions.com to see our full line of products.

Or call 1-800-558-4836
CALL FOR QUOTE!
For other new and creative products, visit the Product Central section on ASICentral.com.
Advantages is bringing over 60 top suppliers to a city near you. 
Come to the industry's largest and most popular traveling show, the ASI Advantages Roadshow. For a list of cities and dates, visit http://advantagesroadshow.com/. Admission is free for all distributors and salespeople! 
SPONSORED BY


Advantages™ Hot Deals is a trademark of the Advertising Specialty Institute. You were sent this newsletter as a benefit of your ASI membership. Copyright 2010, ASI. All Rights Reserved. 
If you'd like us to send Advantages Hot Deals FREE to anyone else at your company (or to your off-site sales reps), go to www.asicentral.com/newsletters and complete the online form.
Interested in advertising in Advantages Hot Deals? Send an email to ekoehler@asicentral.com
Click here to subscribe to Advantages™ magazine. 
Advertising Specialty Institute®, 4800 Street Road, Trevose, PA 19053