It's Monday, which means three things: Time for that four-letter word again (work); Monday Night Football (go Jets!); and of course, your first of your two editions of Hot Deals this week. Write and let me know if this Monday means anything else for you. Enjoy this edition, and send your feedback directly to: khuston@asicentral.com. It may be published in a future issue of Advantages magazine. For free information on products featured in Advantages, click here: www.advantagesinfo.com.

PRODUCT SPOTLIGHT


– Kathy Huston, editor 

Laugh and the World Laughs With You
The Pitch: I just watched Marlo Thomas on an aol.com video talking about laughter (how much facial work has "That Girl" had anyway?) … and the video makes a good point: We all need to laugh more. Here, here! The Promotional Bookstore (asi/79369) offers item PBC365 Laugh Out Loud (LOL) by Bob Hinds. It's a book of over 1000 famous (and not so famous) jokes, stories and quips. The supplier says it's perfect for business meetings, training sessions and family road trips. Pricing starts at: 48; $11.55-R. For more information, email: sales@promobookstore.com.
The Bottom Line: Worth a chuckle.

One-Liners
The Pitch: Speaking of funny, we had my mom's surprise 70th birthday party on Saturday. It went swimmingly. We made her cry so, mission accomplished! There were a lot of funny, lively seniors there from the Heritage Bay 55-and-over community and they would love this product from Firstpoint International (asi/54405). Item BM8016 is a "seniors one-liners, chuckles for your health bookmark." "You know you're getting older when your idea of getting lucky is finding your car in the parking lot." It's the right size for mailing (fits in a #10 envelope) and is great for senior centers, health fairs, health care, doctors, insurance companies, clinics, assisted living, adult communities and more; maybe even 70th-birthday party favors? Pricing starts at: 300; .47-R. Click here: http://www.betterlifeline.com/.
The Bottom Line: Get the giggles.

ADVERTISEMENT

| | |
| --- | --- |
| ADVERTISEMENT | ADVERTISEMENT |
Get Out!
The Pitch: Yesterday, my son told us he saw a mouse in the family room (they occasionally get in through the fireplace). He also said our lazy cat Sneakers saw this intruder and just sat there, doing nothing about it. What's up with that, Sneakers?! Are you on strike or something? Sooner or later, everyone needs some help with uninvited guests (and I'm not talking about the inlaws). PromoMailers (asi/84500) helps exterminators build the buzz with item #5015A, a full-color postcard with a "No More Uninvited Guests" pest control design on front, and custom promotion on back. Pricing starts at: 2500; .75-V. See here: http://www.promomailers.com/.
The Bottom Line: A better mousetrap.
Warm Things Up
The Pitch: The Weather Channel put the spotlight on Cleveland this morning, saying it's been snowing there for hours. I went to the Rock and Roll Hall of Fame in April a few years ago and it was snowing then too! How do you Clevelanders do it? Wolfmark (asi/98085) is warming things up with their brand-new Rockford eco-friendly plaid bamboo throw blankets in a variety of colors. They are ultra-soft and measure 50" x 60" with a rope fringe. They are just right for corporate events, Realtor giveaways, and any client with whom you share a warm relationship. They start at: one for $49.96-R. See them here: http://www.wolfmarkties.com/Products/BBTB-P/.
The Bottom Line: Fringe benefits.


PRODUCT SPOTLIGHT
NEW! USB Sticks from AZX Sport ASI/30250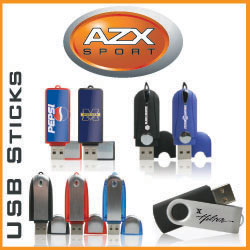 Features: 512MB - 16GB memory size available. Large variety of
colors and shapes. Ability to pre-load files onto USB.

Construction: Full color domed, Laser engraved
and pad printing available.

Lead Time: 1-3 business days on stock USB. 10 business days on
non stock USB. Minimum order 25pcs.

Orders and Art: Info.Advantages@aztex.com

Quote Requests: Info.Advantages@aztex.com

Visit www.azxpromotions.com to see our full line of products.

Or call 1-800-558-4836
CALL FOR QUOTE!
For other new and creative products, visit the Product Central section on ASICentral.com.
Advantages is bringing over 60 top suppliers to a city near you.
Come to the industry's largest and most popular traveling show, the ASI Advantages Roadshow. For a list of cities and dates, visit http://advantagesroadshow.com/. Admission is free for all distributors and salespeople! 
SPONSORED BY


Advantages™ Hot Deals is a trademark of the Advertising Specialty Institute. You were sent this newsletter as a benefit of your ASI membership. Copyright 2010, ASI. All Rights Reserved. 
If you'd like us to send Advantages Hot Deals FREE to anyone else at your company (or to your off-site sales reps), go to www.asicentral.com/newsletters and complete the online form.
Interested in advertising in Advantages Hot Deals? Send an email to ekoehler@asicentral.com
Click here to subscribe to Advantages™ magazine. 
Advertising Specialty Institute®, 4800 Street Road, Trevose, PA 19053