Wasn't I just writing about sunny days and summer BBQs? How has it come to this: December 1st, with 45-mile-an-hour winds, heavy rains and a cold front on the move? No matter, it's always sunny in my little head ... well, mostly (let's not go to the dark places). Happy Hanukkah to my Jewish friends! Enjoy this edition, and send your feedback directly to:khuston@asicentral.com. It may be published in a future issue of Advantages magazine. For free information on products featured in Advantages, click here: www.advantagesinfo.com.

PRODUCT SPOTLIGHT


– Kathy Huston, editor 


The Joe Show:
Hot Items For 2011

The Joe Show: Meetings & Events
In this episode of The Joe Show, Counselor Managing Editor Joe Haley displays some cool items perfect for trade shows and meetings. Have clients planning to give out new booth gifts at shows they exhibit at? Looking for ideas for your client's next sales meeting? Check out this episode of The Joe Show.  

Click here to see this meeting-products edition of The Joe Show.

Want more videos? Subscribe now to our YouTube videos.

Hot to Trot
The Pitch: I don't care what looking out my window tells me, someone somewhere is hitting the beach today. Admints & Zagabor (asi/31516) offers item BEKIT, the Beach Essentials Kit. It includes a 1-oz. hand sanitizer, an SPF15 lip balm, an SPF30 sunscreen stick and a plastic mint card. It's all packed in a clear bag. This would be worth the trip to your travel clients. Think destination weddings, all-inclusive resorts, travel agents and more. And don't stop at the beach. This would be perfect for snow bunnies at ski lodges too. (I'll be the one cozy by the fire with a Hot Toddy). Pricing starts at: 100; $7.75-R. Click here: http://www.admints.com/.
The Bottom Line: Explore the great outdoors.

ADVERTISEMENT

| | |
| --- | --- |
| ADVERTISEMENT | ADVERTISEMENT |
Handle With Care
The Pitch: This is a great idea! The Handle Cozy from Ariel Premium Supply (asi/36730) fits on shopping bags, luggage, briefcases, laundry bags, sports bag handles and more. It reduces hand pain and discomfort. Nobody likes it when those shopping bag rope handles dig into their fingers. Plus, when the chaos of holiday shopping stresses you out, simply squeeze the Handle Cozy for stress relief. Pitch this to malls, retail shops, gyms, travel agents and more. The possibilities are endless. Pricing on item WEE-HC01 starts at a mere: 150; $1.60-R. Check it out: http://www4.arielpremium.com.
The Bottom Line: It's covered.

| | |
| --- | --- |
| ADVERTISEMENT | ADVERTISEMENT |
Under My Umbrella
The Pitch: This morning when I looked for an umbrella for my son and couldn't find one in our house, I realized we need more umbrellas in this joint. Just like pens, you can never have too many umbrellas, in my opinion (keep some in your house, your car, your office, your golf bag, purse, etc.). Peerless Umbrella Co. Inc. (asi/76730) has a very adorable automatic-open mini umbrella that comes in the cutest neoprene case (you could probably even put your eyeglasses in there if you wanted to). Item #4207 starts at: 50; $21-P. This would be a unique giveaway for your retail clients. Click here: http://www.peerlessumbrella.com/
The Bottom Line: It's over your head.


| | |
| --- | --- |
| ADVERTISEMENT | ADVERTISEMENT |
Pass the Tissues
The Pitch: Last night I turned on a Hallmark Channel movie right in the middle of it and watched for no more than 10 minutes before I started bawling. I had to get a roll of toilet paper, because I had no tissues (I really have to go shopping for tissues and umbrellas). Just as I said about umbrellas, above, you can never have too many boxes of tissues around, especially now that it's cold-and-flu season (and sappy holiday movie season). I like the house-shaped box of two-ply tissues from Simply Smashing Inc. (asi/87425). Item TP023 starts at: 500; $4.87-R. Think about this for your real-estate, mortgage, insurance and home-improvement clients, as well as health-care prospects. You can see it here: http://www.simplysmashing.com/.
The Bottom Line: Sniffly business.
PRODUCT SPOTLIGHT
NEW! USB Sticks from AZX Sport ASI/30250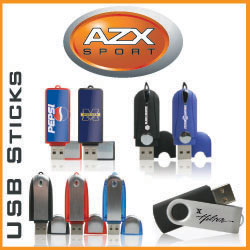 Features: 512MB - 16GB memory size available. Large variety of
colors and shapes. Ability to pre-load files onto USB.

Construction: Full color domed, Laser engraved
and pad printing available.

Lead Time: 1-3 business days on stock USB. 10 business days on
non stock USB. Minimum order 25pcs.

Orders and Art: Info.Advantages@aztex.com

Quote Requests: Info.Advantages@aztex.com

Visit www.azxpromotions.com to see our full line of products.

Or call 1-800-558-4836
CALL FOR QUOTE!
For other new and creative products, visit the Product Central section on ASICentral.com.
Advantages is bringing over 60 top suppliers to a city near you.
Come to the industry's largest and most popular traveling show, the ASI Advantages Roadshow. For a list of cities and dates, visit http://advantagesroadshow.com/. Admission is free for all distributors and salespeople! 
SPONSORED BY


Advantages™ Hot Deals is a trademark of the Advertising Specialty Institute. You were sent this newsletter as a benefit of your ASI membership. Copyright 2010, ASI. All Rights Reserved. 
If you'd like us to send Advantages Hot Deals FREE to anyone else at your company (or to your off-site sales reps), go to www.asicentral.com/newsletters and complete the online form.
Interested in advertising in Advantages Hot Deals? Send an email to ekoehler@asicentral.com
Click here to subscribe to Advantages™ magazine. 
Advertising Specialty Institute®, 4800 Street Road, Trevose, PA 19053