Sales Tip of the Week
Hi everyone! Are you all in the holiday spirit? I know I am. In fact, I actually wrote this yesterday, since I took off today to finish up my Christmas dinner shopping and to clean the house for the arrival of the in-laws and the outlaws. But, first, here are some ideas for you, as I know selling never takes a holiday. Enjoy this edition and send your feedback directly to: khuston@asicentral.com. It may be published in a future issue of Advantages magazine. For free information on products featured in Advantages, click here: www.advantagesinfo.com.
– Kathy Huston, editor 
The Joe Show: 2010 Hot Products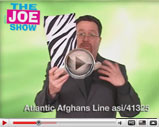 This time of year, Counselor Managing Editor Joe Haley is on the prowl for the hottest new products available in the market. In this episode of The Joe Show, he shows off some new items for 2010 that suppliers have recently sent to him. Check out the video, and grab your nearest pen and notepad to jot down ideas on the coolest new items for 2010.
Click here  to see this 2010 new-products edition of The Joe Show.
Safe and Sound
The Pitch: This should be given out to all college kids upon enrollment: Item #6078 from Adva-Lite (A Corvest Co., asi/32145) is a blinking LED light and whistle combo with a keyring and a breakaway lanyard attached. It's also a great idea for self-defense programs and police departments. Pricing starts at: 100; $2.09-R. See it here: http://www.advalite.com/product.jsp?id=1457.
The Bottom Line: Alert the authorities.
ADVERTISEMENT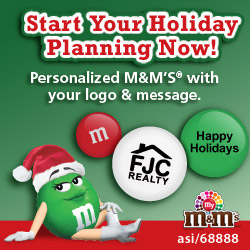 Icy Reception
The Pitch: One of our account execs here at ASI (in fact, she's one of my faves) was in PA for our holiday party (she lives in Miami) and sent me this e-mail afterward: "Please tell your distributors to sell ice scrapers to the rental car companies. I had to ask for one to be put in the car yesterday – and it was not imprinted!" She feels this is a lost opportunity. Well, her name is Mary Sells (her real, very appropriate name) and, in keeping with her suggestion, I give you item #1048: a 10" ice scraper with heavy-duty scraping blade. Well, I don't give you it; it's from Garyline (asi/55990) and it also has a patented reversible handle so the imprint is always in sight. Plus, it's on sale until 12/31/09 at: 200; $1.09-R. Click here: http://www.garyline.com/.
The Bottom Line: Chip away at it.
Sweet Dreams
The Pitch: This was my dream the other night: I left a voicemail message for Donny Osmond suggesting that he sing his reggae songs at his audition for Dancing With the Stars (I can't make this stuff up). I have a lot of really weird dreams and I'm not sure what that says about me, but Dream Time Inc. (asi/50807) has just the perfect sleep mask for any kind of dreamer. It's made of velvet and silk and filled with lavender flowers to soothe away stress. Think of this for hotel and travel promotions – oh, and also, spas. Pricing starts at: 250; $12.50-S. Check it out: http://www.dreamtimeinc.com/relax.html.
The Bottom Line: Nighty night.
In Place
The Pitch: I don't know about you, but at our house, pens are always mysteriously disappearing. I blame my husband and my kids, because I'm the only one who seems to put things back where they belong. Yes, I am practically perfect (ahem). Anyway, Essef Distributors Inc. (asi/52710) has a new, chubby magnet pen that sticks to any fridge or magnetic surface, so you always have a pen handy. Pricing starts at: 300; $1.10-R. E-mail orders@thelincolnline.com for more info on item MP23.
The Bottom Line: Close at hand.
The Envelope, Please
The Pitch: Hey, sometimes you never know where something you sell will end up. The Brandelope direct marketing envelope from Brandelope (asi/41544), for instance, was featured on The Ellen Degeneres Show last week, as part of Ellen's "12 Days of Giveaways." Norwegian Cruise Lines used them to deliver cruise tickets and info to delighted audience members. And the company currently offers free spec samples. Click here: http://www.brandelope.com/free.
The Bottom Line: Seal the deal.

ASI SHOW LIVE
The ASI SHOW LIVE is making its big debut at The ASI Orlando Show – if you're not going to be at the show this year, you can watch select New Distributor Success courses and our exciting 2010 Fashion Show LIVE at www.asicentral.com/asishowlive.
Be part of the action, even if you're not able to attend the show. Watch these courses and events LIVE at www.asicentral.com/asishowlive:
New Distributor Success Track
Sunday, January 3
Ad Specialty Sales Overview: The Nuts and Bolts of Success
David Blaise, Top Secrets of Promotional Product Sales
8:30 a.m. - 9:30 a.m. EST
10 Proven Ways to Get Your First Customers
Rosalie Marcus, PromoBizCoach.com
9:45 a.m. - 10:45 a.m. EST
Inside the Mind of the Advertising Specialties Client
David Blaise, Top Secrets of Promotional Product Sales
11 a.m. - Noon EST
ASI's 2010 Fashion Show
Monday, January 4
5 p.m. - 6 p.m. EST